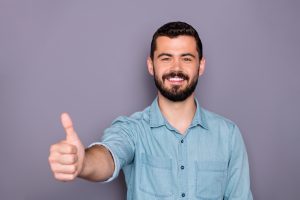 Even though you take care of your teeth, and keep them safe against cavities, your smile is starting to look dull. While this may be frustrating, it can be a relatively common issue, as teeth stains can accumulate even if you take care to brush and floss regularly, and see your dentist for general care. If you are noticing an unwelcome change in the color of your teeth, consider arranging a professional whitening procedure! With a take-home whitening kit, or by scheduling a single-visit whitening procedure, you can make your smile dramatically brighter. This is an effective solution for people who are bothered by teeth stains, but it is only one of many cosmetic dental services that we offer.
Arranging A Teeth Whitening Treatment
Through a professional whitening treatment, you can take care of distracting stains that have started to affect the way you look. While store bought whitening agents can have a difficult time removing particularly tough stains, you can see better results when you plan treatment through your dentist's office. This is because your dentist has access to more potent whitening agents, which are capable of safely removing staining particles that over the counter products tend to miss.
Picking Your Preferred Whitening Treatment
At our practice, we can give patients the choice to whiten their teeth at home with a custom kit, or to come in for a one-visit whitening procedure. During an office whitening treatment, we will take care of your smile by applying your whitening agents, and activate their effects with a special light to speed up your changes. Your take-home kit will include professional bleaching gels, as well as custom trays that make applying these gels easy. Typically, a person who uses a take-home kit can see results in as little as ten days of daily applications!
What Are Your Other Options For Improving Your Smile?
A professional whitening treatment can make you comfortable with the color of your smile, but you may have other concerns about your appearance that you wish to address. If you have concerns about the shape of teeth, their alignment, their color, or with visible dental damage, porcelain veneers can make the changes you desire. In addition to correcting these problems with veneers, you can improve the look of unattractive teeth with dental bonding work.
Talk To Grinnell Street Dental About Addressing Your Teeth Stains
At Grinnell Street Dental, we are ready to help patients who want to do something about their teeth stains! We can provide you with a kit that you use at home, or welcome you for a one-visit smile improvement. To learn more about Grinnell Street Dental, or to arrange an appointment with one of our doctors, contact our Sheridan, WY, dental office today at (307) 672-7567.