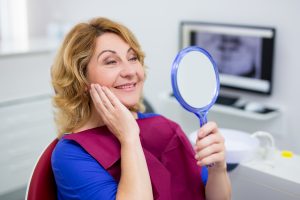 If you visit your dentist to discuss restorative treatment, you may worry that you are starting something that will be an involved, long-lasting process. At our Sheridan, WY dental office, we can actually make your experience with oral health care easier by completing your care in less time than you think possible. When patients require the support of a dental crown, we use CEREC technology to have their custom restoration ready that same day, so their smile can restored without an aggravating wait. These restorations are carefully designed so that they stay in place, and feel comfortable. Because we use ceramic to craft these crowns, they can closely match the look of your natural teeth, and be a good fit for your smile.
Same-Day Dental Crowns Make Restorative Dental Care More Convenient
With same-day dental restorations, our practice can make sure that you have your oral health needs addressed in less time than you might think possible. We can go through the process of closely measuring your tooth, preparing it to receive your crown, and designing that crown at our practice. Because it can be made to match the look, size, and color of its neighbors, your custom CEREC crown can allow you to maintain the look of your smile.
What Should You Expect From A CEREC Dental Crown?
CEREC dental crowns are popular because they make restorative dental work more convenient. You can be happy to know that in addition to providing treatment in less time, these crowns are designed to be strong enough to support your tooth when you bite and chew. Because of this, you can maintain a more comfortable bite motion, and avoid experiencing issues with TMJ dysfunction. You can also count on continued support for your vulnerable tooth, which can help you avoid future discomfort.
Take Advantage Of Our Modern Dental Services
We are proud to make a range of modern services available to our patients. Thanks to modern restorations like our CEREC crowns and tooth-colored dental fillings, we are able to provide cavity treatment while preserving the way you look. We also provide exciting solutions to cosmetic dental problems with lifelike veneers, and through dental bonding procedures. These cosmetic treatments can allow you to cover up unflattering issues with dental damage, discoloration, or misalignment that have hurt your confidence!
Grinnell Street Dental Can Provide Same-Day Dental Crowns For Our Patients
At Grinnell Street Dental, we are ready to provide quality oral health care to patients in and around the Sheridan, WY area! With modern CEREC dental crowns, we have the ability to have your custom crown designed and placed after just one appointment. We can also help you by offering important ongoing preventive care, so you can stay free of problems that might require the placement of a restoration. To learn more about Grinnell Street Dental, or to make an appointment with one of our doctors, contact our Sheridan, WY, dental office today at (307) 672-7567.