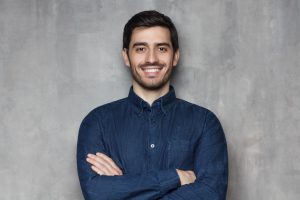 A person who has a gap between their teeth can feel that the space draws unwelcome attention, and hurts the quality of their appearance. If you are someone who has issues with their smile because of poor spacing, the problem can be addressed through several different treatment options. Of course, if the issue is connected to the alignment of your teeth, orthodontic work can help. Invisalign treatment can close a gap, and address any other alignment issues that you might have, while making your adjustment time feel less intrusive. It may also be possible to hide this flaw through a different cosmetic dental procedure, which can lead to results in less time. Our Sheridan, WY dental office is prepared to help you address your smile gap, and regain full confidence in the way you look!
Providing Orthodontic Work To Close A Gap Between Teeth
Orthodontic treatment helps patients who struggle with the esthetic and oral health issues linked to poor dental alignment. If you feel reluctant to start a smile adjustment because you worry about the effect metal braces might have on your teeth, you should consider treatment with Invisalign aligners. These appliances are difficult to see, and they do not intrude when you want to eat or clean your teeth. You can rely on a sequence of clear aligners to gradually correct gaps and overlaps, until you are showing off a lovely, straight smile!
Hiding A Gap With A Custom Porcelain Veneer
Orthodontic work can lead to great results, but you may be able to close a gap in a shorter time thanks to modern cosmetic dental care. If you have a tooth that is undersized or misshapen, it can leave a gap between teeth that makes you uncomfortable. In a situation like this, or in some cases involving poor dental alignment, the problem can be fixed with the placement of porcelain veneers. Your dentist can have a custom veneer designed for a tooth in order to improve its shape, size, and overall condition. Because this work can be completed in as little as two appointments, you can see your desired results in a shorter period than you would if you went through orthodontic work.
Covering Space Between Teeth With A Dental Bonding Procedure
With dental bonding work, it may be possible to close a small gap without using a restoration, or undergoing orthodontic work. Composite resin material can add to the size of a tooth, and effectively shut a gap. It is common for a dental bonding procedure to deliver results in as little as one visit!
Talk To Grinnell Street Dental About Addressing An Embarrassing Gap Between Teeth
At Grinnell Street Dental, our patients can count on quality cosmetic services when they feel self-conscious about their smile. We offer Invisalign as a modern alternative to braces, as well as work involving porcelain veneers and dental bonding, to help you see real improvements to the way you look. To learn more about Grinnell Street Dental, or to set up an appointment with one of our doctors, contact our Sheridan, WY, dental office today at (307) 672-7567.