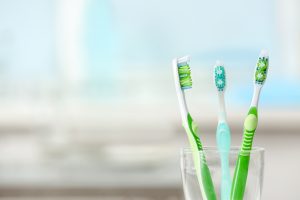 Oral bacteria can continually feed on food particles left behind on teeth, and create concerns for your dental health. Because these bacteria pose a persistent threat, you should have a consistent oral care routine in place to protect your smile! While it is not your only line of defense, brushing is an important form of protection for your teeth and gums. To be truly effective, you should think about the effort you tend to put into brushing. If you are rushing through cleaning, brushing with too much force, or missing areas of your smile, you may not provide the kind of support you think you do. For important updates about the condition of your smile, you can enjoy quality preventive dental care during evaluations with our Sheridan, WY dental office.
Your Brushing Routine May Be Less Effective Than You Think
Are you brushing at least two times a day? If you are, you can do an effective job taking care of bacteria and food particle buildup…as long as each brushing session is thorough. You should spend at least two minutes on cleaning your teeth every time you brush, and you should work the brush so that you can reach every area. Being thorough helps you remove harmful agents in hard-to-reach areas. What you should not do is try to make up for shorter brushing sessions by using more force while cleaning your teeth. Brushing more aggressively can offer few benefits when it comes to clearing away plaque, and it can create excess friction on your enamel that can make you more vulnerable to future decay!
Making Overall Improvements To Your Smile Care Routine
Better brushing is one improvement you can make to your smile care routine, but you should look at other areas for improvement if you want to keep your teeth healthy. Even after you improve your approach to brushing, you should make thorough flossing a daily habit. By flossing, you eliminate harmful agents that gather between your teeth – these areas can be difficult to access with brushing alone, and can remain vulnerable without direct care. Better flossing helps you protect yourself against tooth decay and gum disease.
Discussing Your Brushing Routine At Your Next Checkup
During every routine visit to our practice, you can enjoy detailed feedback about your oral health, and we can notify you if you need a dental filling or dental crown because of decay. If you want to make sure your future visits do not lead to restorative work, you can use your time in the dentist's chair to ask questions about good care at home. You may be surprised to learn that your routine is not as effective as you assume, and you can receive great tips on fighting problems with your teeth and gums.
Talk To Grinnell Street Dental About Preventing Smile Problems
At Grinnell Street Dental, we are ready to provide guidance on proper oral care when you visit our practice! To learn more about us, or to schedule an appointment with one of our doctors, contact our Sheridan, WY, dental office today at (307) 672-7567.