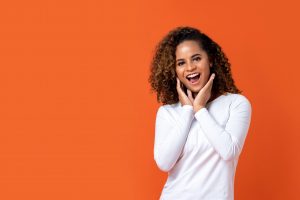 Many people feel a sense of embarrassment about their poor dental alignment. If this is a situation that you are dealing with, you should know that modern orthodontic appliances can help you without causing the visible changes associated with metal braces. Our Sheridan, WY dental practice is ready to help patients who feel self-conscious about their appearance because of poor alignment by offering Invisalign. Invisalign clear braces allow you to move teeth into better positions, so you no longer have to feel embarrassed by poor alignment. Patients also enjoy having a type of orthodontic appliance that they can remove on their own, which can make them easier to fit into their daily life.
Dental Alignment Issues Can Be Fixed Without Metal Braces
Because metal braces are so closely linked to orthodontic treatment, people sometimes believe that they are the only solution to a problem with their crooked teeth. At our practice, we do provide Invisalign aligners as an alternative to this option. Wearing your Invisalign braces can help you fix overlaps, gaps, and other problems that are caused by poor dental alignment, while feeling more comfortable in your daily life.
Using Invisalign Aligners To Improve Your Smile
Each Invisalign appliance you wear brings you closer to your final adjustment. Because you rely on multiple appliances, and do not need manual adjustments on a single one, you can actually enjoy a treatment that requires fewer visits with your dentist, adding another level of convenience to treatment. You should wear your Invisalign braces throughout the day to stay on track with your treatment. Fortunately, their discreet appearance ensures that they can go unnoticed by others, so you do not have to feel like hiding them in a social or professional context. When you are ready to clean your teeth or eat, you can slip them off, so they are not intrusive.
Discussing A Cosmetic Procedure To Hide A Smile Gap Or Overlap
Orthodontic work is not always necessary when it comes to fixing a smile gap or overlap. At our practice, we can talk to patients who may be eligible for cosmetic dental work to deal with these issues. You may be able to hide flaws with the placement of porcelain veneers. Your veneers are placed over the front of teeth, and they are designed with the goal of helping you show off your ideal smile.
Talk To Grinnell Street Dental About Fixing Issues With Crooked Teeth
At Grinnell Street Dental, patients who are interested in orthodontic work but nervous about metal braces can be excited to learn about treatment with Invisalign. These clear braces can make an adjustment easier, and more discreet, leading to a better overall experience. To learn more about Grinnell Street Dental, or to arrange an appointment with one of our doctors, contact our Sheridan, WY, dental office today at (307) 672-7567.