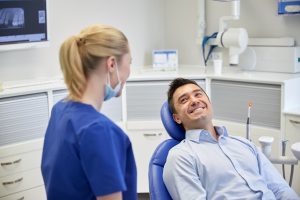 A cavity's damage to your tooth structure is permanent, which makes proper restorative dental care important. You will need a permanently placed dental filling or dental crown to remain in place to keep your tooth safe from further infection, and to ensure you can bite and chew without problems in the future. At our Sheridan, WY dental office, we can make sure all decayed material is removed from a problem tooth, and set the appropriate restoration for you. In addition to making sure that your tooth is protected, we use lifelike materials to protect the look of your smile as well. While other practices require multiple appointments to restore a tooth with a crown, we have technology in our office that can allow us to complete your work in just one appointment!
A Cavity Can Do Permanent Damage To Your Tooth
A cavity's harm to your tooth is irreversible, and permanent. Because of this, it is important to respond quickly when you think you might require dental care. The more time you spend putting off treatment, the more your tooth's condition can worsen. Even if decay is caught in its early stage, you need to make sure you have support for your tooth structure.
Restoring A Tooth Affected By Decay
Different restorations are offered to patients in need of treatment. The decision to place a filling or a crown depends on how much support a tooth will require. If a smaller portion of your tooth is damaged, a dental filling can occupy that space, and give you lasting protection. However, if you need more support than a filling should be asked to provide, a crown can be put in place. A crown covers all of your tooth above your gum line, and acts on behalf of the tooth to absorb biting and chewing pressure. We provide each type of restoration with tooth-colored material that can blend in with your smile, and allow you to maintain your confidence in your appearance after having work done!
Our CEREC Crowns Can Provide Full Smile Care In Less Time!
We have CEREC technology at our practice we can use to craft lifelike restorations in just one appointment. For many other dental offices, a third party lab is responsible for creating restorations. We can digitally measure your tooth, use that information to design your restoration, and then have a ceramic-made crown produced by our milling machine. Once the restoration is ready, you can receive it, and enjoy lasting support for your tooth!
Talk To Grinnell Street Dental About Restorative Work For Your Cavity
At Grinnell Street Dental, patients can look forward to prompt and thorough restorative dental work. We can make sure your issues with decay are completely addressed, and also provide you with a restoration that preserves your smile, and protects your tooth! To learn more about Grinnell Street Dental, or to make an appointment with one of our doctors, please contact our Sheridan, WY, dental office today at (307) 672-7567.