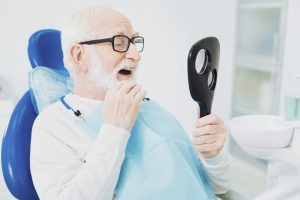 The right approach to prosthetic dental work can mean more than just improvements to your smile and oral health. Thanks to the support from dental implants, it is possible to provide patients with restorations that allow them to feel more comfortable when they bite, laugh, speak, or chew! Implants provide better support for a prosthetic because they provide the function of a root for your replacement tooth. At our Sheridan, WY dental office, we can help you regain a better bite function, preserve a healthy jaw, and enjoy a revitalized smile by discussing dental work that relies on the use of dental implants to hold any prosthetic appliances you need in position.
What Are Dental Implants Really Going To Do For You?
A dental implant plays an important role in restoring your smile, even if it does go unnoticed. Essentially, the implant takes on the responsibilities that a tooth's root would manage for a natural tooth. One of these roles is to keep your restoration securely held against your jawbone, so it stays comfortable over time. Another is to stimulate your jawbone when you bite and chew, which sends important nutrients to the bone. Implants are even beneficial to neighboring teeth, as they provide valuable support to their neighbors.
Receiving A Dental Implant
A dental implant must be placed in the spot where your lost tooth root was once held. During an initial evaluation, your dentist will take care to thoroughly study the area where you will receive your implant, to make sure its ideal location is determined. Preliminary work also allows your dentist to look for any problems that might interfere with the goal of restoring your complete smile. It is sometimes necessary to plan other dental services to ensure that your implant placement is a success.
Making Prosthetic Dental Work Part Of A Larger Effort To Restore Your Smile
The circumstances around prosthetic work can vary. While one person might be missing one tooth, another might be in need of multiple replacements. Just as one person might be responding to a recent injury, another could be dealing with tooth loss caused by poor oral health. If your issues with missing teeth are part of a larger concern about your oral health, we can recommend starting a full-mouth rehabilitation. During your rehabilitation, you and your dentist will go through the different issues impacting your smile health, and arranging necessary treatments. To make sure you see optimal results, you can even discuss completing this work with cosmetic dental care to address any problems with your appearance that are not addressed through restorative work.
Talk To Grinnell Street Dental About Implant-Held Restorations
At Grinnell Street Dental, patients who are looking to regain a complete smile can be excited to learn about the advantages of dental implant placement! To learn more about Grinnell Street Dental, or to arrange an appointment with one of our dentists, contact our Sheridan, WY, dental office today at (307) 672-7567.