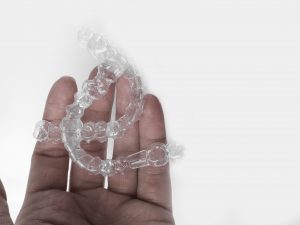 Our Sheridan, WY dental office can help patients with varying cosmetic dental concerns. We are ready to help a person make their teeth whiter, and to address problems with damaged or misshapen teeth that make a person's smile appear less attractive overall. What you might be surprised to learn is that our practice is also ready to help you deal with poor dental alignment! With the use of Invisalign braces, we can help you close gaps, straighten teeth that overlap, and improve the overall symmetry of your smile. Because these appliances are hard to see, you can wear them in social and professional situations without experiencing feelings of discomfort or self-consciousness.
Invisalign Aligners Are An Exciting Alternative To Metal Braces
We understand that a problem with your smile can be a sensitive matter, and something that has caused discomfort over an extended period of time. With Invisalign aligners, we can make the process of straightening teeth that are out of alignment discreet, letting you tend to the matter without drawing unwanted attention. Unlike metal braces, which are affixed to teeth, Invisalign appliances are easy to remove. Because of this, you can find that your correction period does little to interfere with your daily life!
Making Plans To Begin Invisalign Treatment
Are you bothered by the alignment of your teeth? If so, you can make an appointment to talk about your concerns, and see if Invisalign might be the right solution for you. Many people are excited to learn that these clear braces can lead to meaningful results. Your dentist will take careful measurements of your teeth in order to provide custom-made appliances. Each one you wear will bring your treatment closer to completion. Because you have a sequence of aligners, there are no uncomfortable manual adjustments that you have to undergo.
What Else Can Your Dentist Do To Improve Your Smile?
Sometimes, a person's alignment flaws can be covered up without the use of any orthodontic appliance. You may find that a gap or overlap can be addressed through the placement of custom veneers. These cosmetic restorations are bonded to your enamel, and they can be shaped in order to hide problems with the shape, size, or position of a tooth. In addition to hiding alignment flaws, this cosmetic procedure can help you by hiding chips and cracks, as well as by covering up discoloration.
Talk To Grinnell Street Dental About Starting Invisalign Treatment
At Grinnell Street Dental, our patients can talk with us about using Invisalign aligners to fix alignment flaws. These appliances make it possible to straighten teeth, close gaps, and correct awkward overlaps without using metal braces. To learn more about Grinnell Street Dental, or to make an appointment with one of our dentists, contact our Sheridan, WY, dental office today at (307) 672-7567.