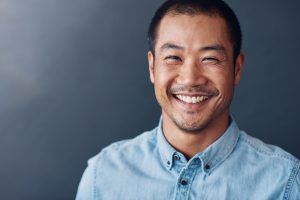 A gap in a person's smile is often a consequence of poor dental alignment. However, it is possible for a gap to be present due to the size of a tooth, as space can result when two teeth are simply not meeting each other as closely as they should. At our Sheridan, WY dental office, we can work with you to determine how to improve your smile if you have a gap that bothers you. Cosmetic dentistry provides multiple approaches that we can take – our goal is to select the one that best serves your desires. If you have alignment concerns, we can arrange treatment with Invisalign. If the problem has to do with the size of a tooth, another option can be recommended!
Closing A Gap By Restoring An Undersized Tooth
Modern cosmetic treatment can restore a tooth that looks flawed because of its small size. A custom porcelain veneer can be used to hide a gap, while covering up any other problems with that tooth's appearance. If lack of size is also an issue for your tooth's ability to contribute to biting and chewing pressures, we can also discuss the placement of a dental crown. Our CEREC technology allows us to have your crown designed and ready for you in just one appointment!
Fixing A Gap Caused By Poor Dental Alignment
If you have problems with poor dental alignment, it may be possible to make significant corrections without turning to metal braces. Instead, you can have your teeth straightened with Invisalign appliances. These appliances are capable of bringing poorly spaced teeth together, so a gap is no longer a problem. You can be glad to have a treatment option that does not require you to wear permanent metal braces, as your treatment can feel less intrusive while still delivering results.
We Can Close A Smile Gap As Part Of A Larger Plan To Improve Your Appearance
You may be concerned about more than just a gap between teeth. At our practice, we can provide a consultation to talk about all of your smile improvement goals, and help you see significant changes. We can even discuss working in both general dental work and cosmetic dental care to ensure that your smile is healthy, as well as attractive.
Talk To Grinnell Street Dental About Addressing Your Smile Gap
A smile gap can be a distracting, unwelcome problem for your smile. At Grinnell Street Dental, we can find the right treatment for you so that you see positive changes, and gain a new degree of confidence in the way you look! To learn more about Grinnell Street Dental, or to schedule an appointment with one of our doctors, contact our Sheridan, WY, dental office today at (307) 672-7567.