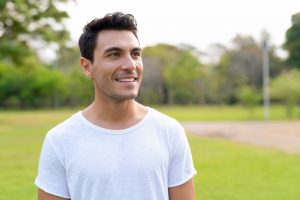 Dental damage can negatively affect the way you look, and make basic biting and chewing more difficult. Unfortunately, damages that affect our teeth are permanent without treatment, so there is not a way for you to simply wait for a chipped or cracked tooth to heal. At our Sheridan, WY dental office, we can restore any teeth that you need treated by providing custom dental crowns. The CEREC technology we use to produce these restorations can make same-day treatment for dental issues possible, which means you can recover from your dental problems in less time than you might think possible. This technology also allows us to address tooth loss in less time, as we can use it to create custom dental bridges!
Are You In Need Of Treatment For Dental Troubles?
A problem that affects your smile or dental function can demand professional care. If you currently avoid biting and chewing with certain teeth because of discomfort, or if any of your teeth are missing, you should not expect matters to improve on their own. In fact, untreated issues with unhealthy teeth can worsen over time, and problems with unhealthy or missing teeth that affect your dental function can lead to painful TMJ problems. If you want to recover your smile, and properly restore your oral health, you should make plans for dental treatment.
Creating A Custom Restoration With CEREC Technology
At our practice, we can provide restorations created with CEREC technology! This technology allows us to complete dental work without the aid of a third party lab. We can design your dental crown or bridge after taking necessary digital measurements, and craft a restoration on site. Having the means to craft and place a restoration in one location can make treatment easier, faster, and more convenient.
We Can Also Address Superficial Dental Problems Through Cosmetic Work
Permanent dental damage may affect your smile, but leave your oral health unaffected. In a situation like this, you may be interested in cosmetic dental work. Through dental bonding, or the placement of porcelain veneers, we can make sure your smile is in top shape, while minimizing the amount of work that has to be done on your tooth structure.
Talk To Grinnell Street Dental About Receiving A Custom Crown Or Bridge
At Grinnell Street Dental, we are ready to help patients who are concerned about the effect that damaged or missing teeth will have on their lives. With modern technology at our practice, we can craft custom restorations that can improve your dental function, while also making it easier for you to smile with confidence! If you would like to learn more about Grinnell Street Dental, or if you wish to schedule an appointment with one of our doctors, contact our Sheridan, WY, dental office today at (307) 672-7567.