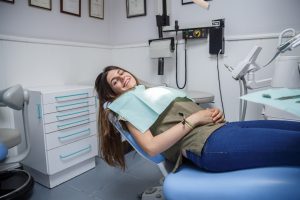 While treating cavities is certainly an important service, this is not the only situation where our Sheridan, WY dental practice can help you. We can provide patients with help to address multiple concerns. In some cases, those concerns can be unrelated to their oral health, as we do provide quality cosmetic dental work. We can also help with oral health matters that do not directly involve your teeth. For instance, we can help you deal with unsightly cold sores, and we can help you take care of problems that might interfere with your dental function.
We Offer Laser Treatment For Cold Sores
By providing laser treatment for cold sores, we help patients cover up an unsightly and uncomfortable issue. By offering laser treatment, we can ensure that you recover from a cold sore in a short period of time, so you can comfortably go about your life without feeling self-conscious. The laser treatment we use is designed to be safe for soft tissues, so the matter can be addressed without causing problems – in fact, this treatment can often be performed with no need for anesthesia.
We Can Make Meaningful Improvements To Your Smile
How confident are you with your smile right now? If you have any issues that make you feel self-conscious, you may be eager to see improvements. Fortunately, we offer multiple cosmetic treatments that are effective at making significant improvements to the way a person looks! Are you worried about the color of your teeth? We can arrange a professional whitening treatment that can exceed the results that you might observe after using a store bought whitening product. If you are interested in covering flaws related to minor dental damage, or naturally occurring issues with the shape or size of teeth, we can provide great improvements by placing veneers on any teeth that currently look unattractive, or out of place.
Chronic Headaches And Jaw Pain? We Can Offer Relief From TMJ Dysfunction
By treating TMJ dysfunction, we can help improve your quality of life. TMJ dysfunction is the reason many people have ongoing issues with headaches, limited jaw movement, and other issues. If you think you might have a problem with TMJ dysfunction, letting us know can ensure that the matter is dealt with, meaning you can enjoy freedom from ongoing discomfort.
Talk To Grinnell Street Dental About Your Oral Health Concerns
At Grinnell Street Dental, patients can look forward to great care during every visit! Because we provide treatment for many different issues, you can count on us to offer improvements that go beyond work to restore cavities. Of course, when you are in need of cavity care, we can provide modern restorations that offer functional and cosmetic support. To learn more about Grinnell Street Dental, or to plan a visit with one of our doctors, contact our Sheridan, WY, dental office today at (307) 672-7567.