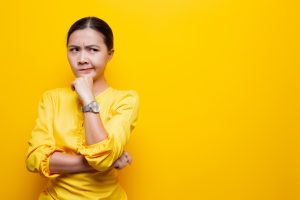 Daily pain in your face, jaw, head, and neck can be more than just an inconvenience, or something you have to tune out as you focus on your responsibilities. The discomfort you are trying to ignore may be the results of jaw problems that your Sheridan, WY dentist can help you manage. TMJ dysfunction impacts the lives of many different people, and it can stem from different issues. You might need to do something about a problem that affects your bite function, while another patient could have problems because of a past jaw injury. Your dentist can work with you to understand the nature of your troubles, and provide the appropriate care so that you can enjoy freedom from ongoing pains in your face, jaw, neck, and head! While TMJ treatment often relies on oral appliances, your dentist can also recommend care to address underlying issues that led to your troubles.
Stop Ignoring The Signs Of TMJ Dysfunction!
If you keep trying to ignore signs that you are dealing with TMJ dysfunction, you will continue to feel the unpleasant symptoms that intrude on your daily life. Going without treatment can also mean ignoring underlying problems that are creating your issues. Those problems can include poor dental alignment, and a lack of functional support from certain teeth. Because your treatment process involves a thorough evaluation, your dentist can help you make important changes that have a lasting effect on your oral health.
Why Would Jaw Problems Cause Symptoms In Other Areas?
Your jaw motions are controlled by your trigeminal nerve, which is also responsible for sensations in other areas like your face, neck, and head. Because of this, TMJ dysfunction can affect all of these areas. People with chronic headaches sometimes fail to realize that their dentist might be the right person to talk to if they want relief. When you take pain seriously – and when you keep up with regular dental visits – you can be relieved to discover that the right treatment can have a great effect on your life.
Teeth Grinding Damage Related To TMJ Dysfunction Can Be Addressed
Teeth grinding commonly occurs because of unaddressed TMJ problems, and the habit can quickly create new issues. We can talk to you about having dental crowns placed on any teeth that are seriously damaged from persistent teeth grinding. If you have superficial dental damages, porcelain veneers can help.
Talk To Grinnell Street Dental About TMJ Dysfunction!
At Grinnell Street Dental, we can work with you to understand what your issues with TMJ dysfunction might stem from, and we can use that information to provide relief. Our practice is proud to help individuals show off attractive, healthy smiles, and we can help you enjoy freedom from frustrating dental discomfort. To learn more about Grinnell Street Dental, or to schedule an appointment with one of our doctors, contact our Sheridan, WY, dental office today at (307) 672-7567.