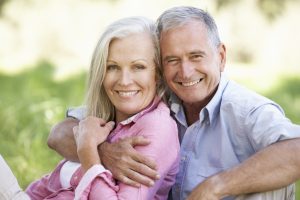 Having your issues with tooth loss addressed will mean improving your smile, but with the right dental work, you can also enjoy impressive functional benefits. Many people who have an issue with an incomplete smile can find that a dental implant-held restoration provides them with a comfortable, attractive, and secure prosthetic appliance. Your Sheridan, WY dentist can talk to you about what to expect from an implant, and let you know if you are approved to move forward with treatment. If an initial evaluation results in your dentist finding problems that might interfere with placement, you can discuss the appropriate work required to move forward.
How Dental Implants Affect Your Experience With A Dental Prosthetic
Dental implants can hold a restoration securely enough to make it feel comfortable, natural, and dependable. The implant is safely inserted directly into your jawbone through a surgical procedure – as time passes, your healing process will see your jawbone fuse directly with the implant. These prosthetic posts are useful for securing dental crowns, dental bridges, and even partial and full dentures!
Working With You To Plan Your Prosthetic Dental Work
You can make an appointment at our practice to discuss the appropriate prosthetic dental work for improving your smile. If you have neglected your oral care needs for an extended period of time, this appointment can lead to the discovery of certain problems that can require attention before your implant placement can be arranged. Problems include gum disease, tooth decay, and problems with jawbone deterioration. Our practice can work with you to ensure all of your needs are arranged, and we can work with you on a full-mouth rehabilitation. In addition to preparing you for your implant placement, we can make sure all of your needs are addressed over time, to make sure all of your oral health issues have been managed.
A Dental Bridge Can Remain Secure Without An Implant
Because implant placement requires a surgical procedure, some patients can have trouble receiving approval. Fortunately, you can still receive a permanent, lifelike restoration! Dental bridges are held in place by a pair of dental crowns. Your dentist will place these crowns on the healthy teeth around a gap. Once in position, the bridge can make your smile complete again, and give you renewed confidence in your appearance, and your ability to bite and chew naturally.
Talk To Grinnell Street Dental About Dental Implants!
If you want to regain your full smile, make time to talk with Grinnell Street Dental about dental implants! At our practice, we can offer access to a variety of services that can lead to your smile being fully restored, in good health, and attractive! If you would like to find out more about Grinnell Street Dental, or to schedule an appointment with one of our doctors, contact our Sheridan, WY, dental office today at (307) 672-7567.