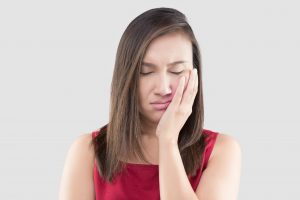 The inability to comfortably bite and chew food can be a frustrating, seemingly inescapable problem. After all, even if you are uncomfortable, you have to eat! If you are frequently trying to avoid biting down with a certain tooth because of pain or sensitivity, or if you are having a hard time opening and closing your jaw without discomfort, ignoring the problem can be an ineffective solution. In fact, that approach can allow for the issue you face to worsen, and become more difficult. Bring up your discomfort with biting and chewing when you see your Sheridan, WY dentist. The right dental procedure can put an end to your discomfort, and greatly improve the quality of your daily life!
Untreated Oral Health Issues Can Intrude On Your Daily Life
When you have an untreated problem that concerns your oral health, you can find that you are in pain throughout each day. With a toothache, you may try to simply avoid the trouble by going out of your way to prevent biting down on that one painful tooth. If your troubles are with your jaw, you can find that biting, chewing, speaking, and laughing can become difficult no matter what changes you attempt to make!
Dealing With Untreated Cavities
A persistent toothache can be a consequence of a cavity that has not been identified and treated. If the pain is becoming an issue, you might have an advanced form of decay that has started to attack the living tissues in your pulp. You can be happy to know that your dentist can deal with this problem, and offer you a dental crown for support. Our practice has technology available that lets us produce a dental crown in one appointment, so you can have your work completed in less time than you might expect! If you have more than one cavity that needs to be addressed, your dentist can start you on a full-mouth rehabilitation, where every sign of decay will be addressed.
Addressing Problems Associated With TMJ Dysfunction
TMJ dysfunction can cause jaw pains, limited dental function, and issues with headaches and neck pain. Your dentist can provide relief with an oral appliance that will address the tension currently felt by your jaw joints. By alleviating jaw stress, your treatment can lead to big improvements in your quality of life!
Talk To Grinnell Street Dental If You Have Trouble Biting And Chewing
Grinnell Street Dental is proud to offer quality care to people in and around the Sheridan, WY area! If you are currently struggling with problems that affect your biting and chewing, you can have the problem studied, identified, and treated. To learn more about Grinnell Street Dental, or to make an appointment with one of our doctors, please contact our Sheridan, WY, dental office today at (307) 672-7567.