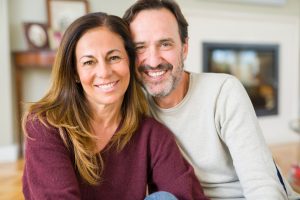 Tooth loss can be a serious issue for your oral health, but while your tooth may be lost, hope for real smile improvement is certainly within your reach. Modern dental care can lead to a smile improvement that gives you back your complete smile, while also addressing the issues around tooth loss that can complicate your life .Having a dental bridge put in place can increase your confidence, improve your smile, and even address the functional problems that tooth loss can create. Your Sheridan, WY dentist's office can help you see the benefits of having a dental bridge crafted and placed. We can also talk to you about the advantages gained from relying on a dental implant to hold your bridge.
Are You Ready To Do Something About Tooth Loss?
If you have recently lost a tooth, you should understand that putting off treatment for the problem can lead to complications you would likely prefer to avoid! If even one tooth is missing, you can discover that your bite function is compromised, forcing you to change the way you bite and chew food. Even if your gap in your smile is hard to notice, this functional problem can be serious enough to intrude on your everyday life, and may increase your risk for TMJ dysfunction.
Securing Your Custom Dental Bridge
A dental bridge is typically held in place with a pair of dental crowns. Each crown helps provide enough support for your bridge so that you can bite and chew without causing it to loosen. This surgery-free approach to providing a permanent restoration can help people boost their confidence, and bite and chew with greater comfort. Your crowns, and the replacement tooth (or teeth) in your bridge, are designed to look lifelike enough to let you enjoy a real cosmetic improvement.
Using Dental Implants To Give You Back Your Full Smile
Should you consider having your bridge held in place with a dental implant? This approach to prosthetic dental work will require oral surgery. With that said, this strategy also allows you to have an root-like post that holds your restoration while also stimulating your jawbone, which will keep the bone protected against deterioration. You can enjoy this along with the cosmetic and functional benefits of a custom bridge!
Talk To Grinnell Street Dental About Having A Dental Bridge Placed
Grinnell Street Dental is proud to offer quality smile care featuring lifelike dental bridges! With your bridge in place, you can feel better about your smile, and more comfortable performing routine dental functions. The sooner you do something about tooth loss, the sooner you can regain the confidence and comfort of having a complete smile! To learn more about Grinnell Street Dental, or to make an appointment with one of our doctors, contact our Sheridan, WY, dental office today at (307) 672-7567.