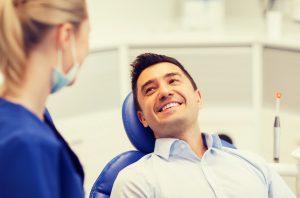 While you may be unhappy to hear the news that you have a cavity, you can be glad to know that once the problem is discovered and treated, you can be free of concerns about your oral health. Your Sheridan, WY dentist's office can talk to you about how bad the state of decay is, and what needs to happen to fully treat your tooth. We make modern, attractive restorations available to our patients, and we are proud to make your dental service surprisingly convenient. In addition to being able to offer tooth-colored fillings, we provide one-visit dental crowns, so even a serious cavity can be restored promptly.
A Cavity Will Only Grow Worse Over Time
After your dentist treats a cavity, the concerns you have around your tooth can be completely addressed. However, if the cavity goes undetected, the problem can not only persist, but grow worse. Eventually, decay will work its way through your enamel, and attack your pulp. Once an infection occurs at this site, you can feel pain, and sensitivity. You should know that it is possible for cavity to grow so serious that only extracting the tooth will help you.
Fully Treating Tooth Decay, And Restoring Your Smile
The goal during any restorative procedure is to make sure your tooth is no longer in danger because of decay, and that your dental function is not negatively affected by your cavity. To make sure you can still count on your tooth to effectively bite and chew, your dentist will select an appropriate restoration. A dental filling can be useful for smaller cavities, but when decay grows too severe, a crown can provide better support.
What Happens If I Have Multiple Cavities?
If you have had a longer absence from your dentist's office, you may learn over the course of an evaluation that you need treatment for several cavities! To take care of the matter, you can arrange a full-mouth restoration. During this process, your dentist will talk to you about what treatments you need, and outline the appropriate services to make sure your problems are entirely addressed. A properly planned approach is one that suits you, your budget, and your schedule, so that you can successfully complete the process and show off a fully restored smile!
Talk To Grinnell Street Dental About Addressing Your Cavity Issues
Grinnell Street Dental is ready to help you take care of your cavity issues! Whether you have one minor cavity in need of a filling, or multiple problems in need of more dedicated services, we are prepared to help you. We can also help you take on purely cosmetic issues, so you can feel more confident in the way you look when you smile! To learn more about Grinnell Street Dental, or to make your appointment with one of our doctors, contact our Sheridan, WY, dental office today at (307) 672-7567.