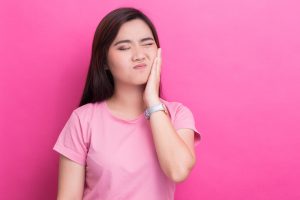 If you continue to have problems speaking, biting, chewing, or laughing due to jaw pain, you should be worried. Stiff, painful, or limited jaw movements are signs of TMJ dysfunction. Other problems connected to this issue include headaches, neck and shoulder pain, and teeth grinding. If you are ready to take on this trouble, schedule an appointment with your Sheridan, WY dentist's office. After treatment, you can address ongoing discomfort, and improve your quality of life! Because treatment can also address teeth grinding, care can also reduce your risk for suffering future problems with dental damage.
Are Your Daily Struggles Connected To TMJ Dysfunction?
If you are regularly struggling with bouts of discomfort, you can find that the problem (or problems) might be related to untreated TMJ issues. Those regular headaches you feel could be connected, as can pain or sensitivity in your face and jaw. Troubles with TMJ dysfunction can even be linked to neck pains. Through the appropriate treatment, your dentist can help you spend your days more comfortably!
Untreated TMJ Issues Can Hurt Your Quality Of Life, And Your Smile
Because TMJ dysfunction can frequently cause teeth grinding problems, you may face more than just pain and sensitivity. Teeth grinding – also referred to as bruxism – can be harmful enough to cause chips and cracks in your teeth. Because of this, you could wind up needing porcelain veneers to hide flaws in your smile, or you could require dental crowns to protect teeth that are jeopardized by harm.
Making Sure Your Oral Health Issues Are Completely Addressed
Our practice is ready to help patients fully recover from the effects of TMJ dysfunction, and we can provide the appropriate treatment to restore teeth that are damaged by teeth grinding. If you want to make sure your needs are being met, talk to your dentist about setting up regular exams! We can also review your needs when you have any troubling symptoms that might call for professional dental services. It is important to remember that your teeth are limited in their ability to heal after harm – putting off care when you are concerned about your oral health can allow problems to worsen.
Talk To Grinnell Street Dental About Ongoing Jaw Pain
If you are starting to notice the effects of ongoing jaw pains, if you have a limited ability to comfortably move your jaw, or if you have possibly related pains in your face, head, and neck, Grinnell Street Dental can help you. Our practice is prepared to offer services to relieve stress on your jaw joints, and we can take care of any dental damages that might be associated with TMJ dysfunction and bruxism. To find out more about Grinnell Street Dental, or to arrange an appointment with one of our doctors, contact our Sheridan, WY, dental office today at (307) 672-7567.