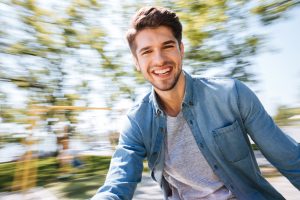 The summertime can make the skies brighter, and the weather warmer, which tends to encourage plenty of outdoor activities. This is also a great time to go out and enjoy family time, since the kids are out of school. All of these fun moments can lead to plenty of pictures – this can be a great way to document your time together, but it can also be a less-than-fun reminder of your issues with your smile. If you feel like your smile is not as bright, as even, or as attractive overall as you would like, let your Sheridan, WY dentist's office know! We offer options for helpful dental treatments that can make big changes to the way you look.
Directly Dealing With Teeth Stains
If your problems are centered around the color of your teeth, then you can bring up a professional teeth whitening procedure with your dentist. With one procedure, it is possible to brighten your teeth significantly, and see results that go beyond what you could expect from a store bought whitening product. This approach directly targets those staining particles in your enamel. That can make this an ideal approach for the kinds of blemishes that come from certain foods and drinks, but you may need to look into a different option for internal problems that change your tooth color.
Improving The Shape, Size, And Color Of Teeth
If you have issues with internal discoloration, concerns about the shape or size of teeth, or minor problems with poor dental alignment, you can address these matters with porcelain veneers. Veneers are specially made to improve your smile by covering teeth, and improving the way they look. You can also look into a dental bonding treatment. Because bonding work will not require custom restorations, the matter can be handled in less time.
Is Your Oral Health Affecting Your Appearance?
Before determining how to move forward with cosmetic work, your dentist will check on the health of your smile to see if your problems with your smile might connect to an oral health problem. If this is the case, you can actually see cosmetic improvements in the course of work to improve the health of certain teeth. Modern dental crowns can be made to closely match the look of healthy teeth, and they can be produced in our office in just one visit!
Talk To Grinnell Street Dental About Improving Your Smile
Grinnell Street Dental is ready to help you take on problems that hurt your smile, and help you feel better about the way you look! Our practice offers a range of procedures that are intended to make great improvements to a person's appearance. To learn more about Grinnell Street Dental, or to arrange your appointment, contact our Sheridan, WY, dental office today at (307) 672-7567.