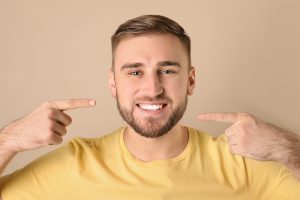 While it would be nice to simply snap your fingers, or wave a wand, and instantly improve your smile, cosmetic dental work can take a little more time and effort to complete. With that said, meaningful improvements to your smile could take less time and effort than you anticipate. Your Sheridan, WY dentist's office provides several procedures that can change the way you look. Dental bonding and teeth whitening procedures can actually lead to changes in as little as one appointment! If you have questions about what to expect from cosmetic work, or if you are unsure of what treatment might be right for you, your dentist can provide a consultation to help you understand your options.
You Can See Real Cosmetic Results In Less Time Than You Might Expect
A professional cosmetic treatment can lead to significant improvements in relatively little time. A teeth whitening procedure can be particularly convenient – you can actually choose between a single visit to our office, or an option to take home a professional whitening kit. The whitening kit includes a custom tray that makes the whitening agents easy to apply, so you can see results that line up with an in-office session. You can also discuss a dental bonding treatment. This approach to cosmetic work relies on a special resin material, rather than a custom restoration, to cover up flaws that affect your teeth. Depending on the amount of work you need, this can be completed in as little as one appointment!
Discussing Your Different Treatment Options
Your dentist can help you weight the advantages of one procedure over others. If you only have issues with the color of your teeth, you can be excited by what a whitening treatment offers you. If you want to cover up chipped or cracked enamel, or issues with the shape or size of certain teeth, you can be eager to learn more about bonding procedures and porcelain veneers. While veneers can be a more costly approach to cosmetic care, the restorations you receive are remarkably durable, so it is easier for you to maintain your improvements.
Your Smile May Benefit From More Than Just Cosmetic Work
In some cases, patients can require more than just cosmetic work to see proper improvements. Your dentist may determine that a damaged or misshapen tooth needs functional support in the form of a dental crown. You can be glad to know that because our office relies on CEREC technology for crowns, this can be a one-appointment solution to the problems you have with an unsightly tooth.
Talk To Grinnell Street Dental About Cosmetic Dental Work
Cosmetic dental work at Grinnell Street Dental can lead to the kind of smile improvements you can't wait to show off to the world! To learn more about Grinnell Street Dental, or to set up an appointment with one of our doctors, contact our Sheridan, WY, dental office today at (307) 672-7567.