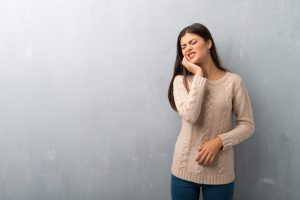 If you have issues with your jaw, your daily life can be negatively affected by several unpleasant symptoms. You might not realize it, but the reason for your frustrating chronic headaches could be related to TMJ dysfunction. While this problem concerns your jaw joints and muscles, several areas like your head, face, and neck can suffer symptoms. Your Sheridan, WY dentist's office is ready to help you manage this issue, and improve your quality of life. In addition to helping you recover from the effects of TMJ dysfunction, our practice can work with individuals who have suffered dental damage because of related issues with chronic teeth grinding.
Should You Be Concerned About TMJ Dysfunction?
TMJ dysfunction can cause different symptoms for people, and the problem can result due to different reasons. With that said, if you are experiencing any signs of trouble that suggest you need to worry about TMJ dysfunction, you should bring up the matter with your dentist. If you do not take action, you can have your quality of life impacted by persistent headaches, troubles with your dental function, and damaging teeth grinding issues.
Addressing Teeth Grinding, And The Damage Done To Your Teeth
Teeth grinding can be a particularly serious issue connected to your troubles with TMJ dysfunction. This is because the act of grinding your teeth can wear down their enamel. Some patients will not seek help until this problem calls for cosmetic dental work. With porcelain veneers, you can hide the effects of this wear and tear. In cases where patients have more serious issues with dental damage, dental crowns can be placed. Crowns offer functional support in addition to making improvements to your smile. This can be a more convenient process than you may realize – because our office has CEREC technology, crowns can be produced for patients in as little as one appointment.
Keeping Up With Your Dental Health To Improve Your Quality Of Life
When you keep up with the needs of your smile, you can enjoy better oral health, and better preserve your appearance. Our practice is ready to help you address any issues that might worry you. That includes cosmetic issues like discoloration, and problems with the shape and size of teeth. It also means we are ready to help you when issues like TMJ dysfunction intrude on your quality of life.
Grinnell Street Dental Can Help You Deal With Problems Like TMJ Dysfunction
TMJ dysfunction can cause real problems for your quality of life – fortunately, you can make an appointment at Grinnell Street Dental for help! Our practice can provide you with the treatment you need to make sure these issues stop affecting your quality of life. To learn more about Grinnell Street Dental, or to set up an appointment, contact our Sheridan, WY, dental office today at (307) 672-7567.