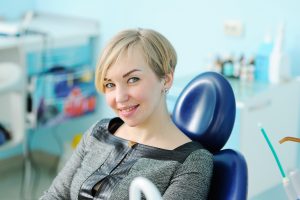 Are you ready to discuss the concerns you have about your smile with your Sheridan, WY dentist? People sometimes put off quality cosmetic improvements because they worry that care is not going to be accessible, or that it might require serious work on their teeth. You might be surprised to find out just how much difference one procedure can make, while requiring less alteration of your tooth structure than you expect. For instance, by placing thin, custom-made porcelain veneers to your teeth, your dentist can hide a range of unflattering problems. This solution can work for many people, but it is only one of multiple cosmetic treatment options that are available to you!
Make Improvements By Addressing Dental Damage And Discoloration
People can be bothered by their appearance because their teeth seem discolored, damaged, or just poorly shaped due to naturally occurring problems. If you only want to do something about teeth stains, you can find success with a professional whitening treatment. By using your dentist's help instead of a store bought whitening product, you can see remarkable improvements! If you want to deal with more than just the color of your teeth, you can arrange the placement of porcelain veneers. Veneers cover the front of teeth, and make improvements to their shape, size, and color. They can also hide wear and tear, which can make you appear younger.
Straighten Out Your Smile By Addressing Gaps And Overlaps
Have you considered orthodontic work, but hesitated out of discomfort with the idea of wearing metal braces? Your dentist can talk to you about Invisalign treatment, so you can close gaps and straighten out overlaps without conspicuous, fixed appliances. Your Invisalign aligners can be worn discreetly, which means you can feel perfectly comfortable wearing them in social settings. They are also easy to remove, making them easy to accommodate as part of your daily life.
What If Your Problems Affect More Than Just Your Appearance?
If you have not kept up with your oral health over an extended period of time, you may be seeing the effects of poor smile care when you examine your teeth. Restorative work, like the placement of dental crowns, may be the ideal solution for your cosmetic concerns. Because our office can produce crowns in a single appointment, you can see meaningful results in as little as one visit!
Talk To Grinnell Street Dental To Learn How You Can Have Unflattering Smile Problems Addressed
Grinnell Street Dental is ready to help patients deal with the unflattering smile problems that bother them! If you are bothered by an issue with your appearance, or with several issues, we are ready to help you! To find out more about Grinnell Street Dental, or to arrange your appointment with one of our doctors, contact our Sheridan, WY, dental office today at (307) 672-7567.