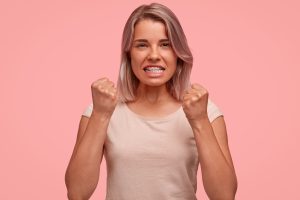 In many cases, dental crowns are used to restore cavity-affected teeth. What you should know is that your Sheridan, WY dentist's office will provide restorative work for more than just tooth decay. In other words, a cavity is not the only problem that can affect the health of your tooth in a serious way. People who routinely grind their teeth, particularly those who suffer from this problem at night, can wind up doing damage that needs to be addressed. Teeth grinding is often associated with TMJ dysfunction, something your dentist can address.
Your Teeth Grinding Habit Could Be Associated With TMJ Dysfunction
People who have untreated problems with TMJ dysfunction can fall into a habit of grinding their teeth while they sleep. This problem can also cause you to experience headaches, difficulty moving your jaw, and other uncomfortable issues. Behavioral changes, as well as dental work, can be used to confront this problem. An oral appliance can also be used to relieve jaw troubles. An appliance worn at night can also keep you from damaging your teeth while grinding them.
Taking Care Of Serious Dental Injuries Caused By Teeth Grinding
When you crack or chip a tooth because of excessive grinding, or any other reason, you will need a restoration to keep the tooth protected. While your bones can slowly mend over time, your teeth are not able to repair themselves when they are harmed. For a chipped, cracked, or significantly worn tooth, a dental crown can offer valuable protection. Your crown can be made in a single appointment thanks to CEREC technology used by your dentist. Your restoration will be custom-made to fit over your tooth, and it can imitate the look of a healthy tooth.
Addressing Minor Wear And Tear With Cosmetic Work
If you act in time, you can put a stop to TMJ dysfunction and teeth grinding before serious dental damage occurs. While you can be happy to avoid oral health problems, you can still feel bothered by the way minor wear and tear can change your smile for the worse. Porcelain veneers can provide important improvements by hiding visible wear and tear. Veneers help people enjoy notable smile transformations by hiding problems with the shape, size, and color of teeth.
Talk To Grinnell Street Dental If You Are Concerned That Teeth Grinding Has Affected Your Smile
If you are bothered by the effects of teeth grinding, or if you have any other issues with your smile that you want addressed, talk to Grinnell Street Dental! Our practice is ready to meet with you to discuss the appropriate care, so that you can have your confidence in your oral health and appearance restored. To learn more about Grinnell Street Dental, or to set an appointment with one of our doctors,  please contact our Sheridan, WY, dental office today at (307) 672-7567.