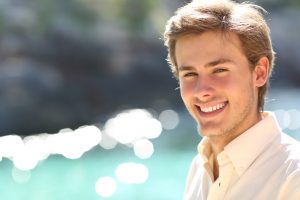 It can be hard to enjoy smiling in pictures when you feel uncomfortable with your smile. If you feel self-conscious about the appearance of your teeth, you can also have a harder time feeling as friendly as you would like in social settings, as you can be guarded about your appearance while speaking, smiling, and laughing. You should know that your Sheridan, WY dentist is able to correct many different cosmetic flaws. For many people, big smile changes are possible through the placement of porcelain veneers. These custom restorations are used to cover up problems that concern the apparent health, color, and even spacing of teeth. This is one of many cosmetic services available to you.
Cover Up A Range Of Flaws With A Bonding Treatment, Or With Porcelain Veneers
Porcelain veneers offer impressive changes, as your dentist will affix custom shells that add to the attractiveness of teeth. When veneers are placed, you can show off a smile that now features teeth that look healthier and brighter. Well-placed veneers can even hide flaws with poor dental alignment.
While veneers can be highly effective at changing your appearance, this is not the only service your dentist offers to cover up superficial flaws. With a bonding treatment, you can hide issues like damage, discoloration, and even problems with the size of teeth. This approach does not require custom restorations, so it is possible to complete the work in just one appointment!
Make Your Smile Brighter With A Whitening Treatment
Teeth whitening treatments have effectively helped many people change their appearance to surprising, and delightful, degrees. If you have grown frustrated with the way stains have made your smile look less healthy, or older, a whitening procedure can be ideal for you. You can enjoy the convenience of taking a whitening kit home, and applying professional-strength whitening gels on your own. You can also schedule a visit, and have your treatment performed at your dentist's office.
Fix Unflattering Alignment Issues Discreetly, Thanks To Invisalign
Invisalign aligners are effective at correcting problems with poor dental alignment discreetly. That means you can finally do something about teeth that overlap, are too far apart, or are otherwise uneven. Your aligners are also removable, so it is easy for you to take them out when they might be in your way.
Talk To Grinnell Street Dental About Improving Your Smile
Grinnell Street Dental is ready to help individuals show off better, more attractive smiles! Our practice provides several types of cosmetic dental work, so you can make your teeth brighter, more uniform, and more attractive overall. We also provide important services for those people who need to improve their oral health. To learn more about Grinnell Street Dental, or to book an appointment with one of our doctors, contact our Sheridan, WY, dental office today at (307) 672-7567.