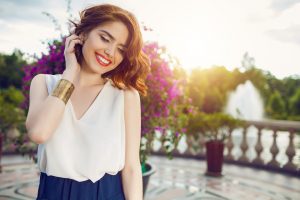 You might have a habit of only offering closed-mouth smiles in photos. You may have developed an unconscious habit of adjusting yourself while you speak to someone to make it harder for them to see your teeth. These signs of self-consciousness can point to real discomfort with your smile. If you continue to ignore the matter, you continue to allow your issues with your appearance to intrude on your life. Your Sheridan, WY dentist can offer help through cosmetic work. Our practice can help you cover up serious flaws by having porcelain veneers placed. With veneers, you can cover up a range of issues that have made you uncomfortable with the way you look.
How Can Porcelain Veneers Help Me Improve My Smile?
Veneers are capable of covering up many different problems that affect how someone might feel about their smile. You can finally do something about teeth that look uneven because of damage, or wear and tear over time. You can also hide flaws with discoloration, including stains that professional whitening agents are ineffective at treating.
Your Custom Veneers Can Make Lasting Improvements To Your Appearance
By placing veneers on your teeth, your dentist can make a lasting change to the way you look. The durability of your veneers is important to this lasting change. After all, your teeth take on significant pressures from biting and chewing, and your veneers need to persist in that environment. Fortunately, the restorations used for you can keep their condition over an extended period, so you can keep showing off your better smile!
Can Veneers Help Restore Damaged Teeth?
Veneers are often able to help people who are concerned about the way they look. Their support can even help hide some signs of dental damage. With that said, your dentist will check to see how much support your teeth need, and if veneers are really the right approach. You can be glad to know that if you need the additional support of a dental crown, you can still see a positive change in your smile. This is because modern crowns can closely imitate your natural teeth. Your dentist can use a crown to address one problem tooth, or you can receive multiple restorations as part of a full mouth rehabilitation.
Talk To Grinnell Street Dental About Using Veneers To Improve Your Smile
Grinnell Street Dental is ready to help you take care of the flaws that have made you unhappy with the way you look. By placing porcelain veneers on problem teeth, your dentist is able to make big changes possible. Those changes include hiding chips and cracks, spacing issues, and more! To learn more about Grinnell Street Dental, or to set up an appointment with one of our doctors, contact our Sheridan, WY, dental office today at (307) 672-7567.