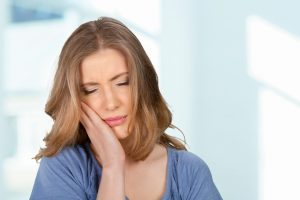 Dental discomfort can be unpleasant for you, and make each day a little more difficult than it has to be. If your pain is centered around a persistent toothache, or your efforts to move your jaw, you could be feeling the effects of potentially serious issues. Fortunately, your Sheridan, WY dentist can work with you to address oral health issues that impact the quality of your life. You may require treatment on individual teeth, or work to improve your dental function. You can be happy to learn that the right procedure can potentially offer improvements to your oral health and your smile. For instance, you can receive a single visit crown that covers up dental flaws.
That Persistent Tooth Pain Could Be Caused By A Cavity
Persistent pain in a tooth can be an alert that you have an untreated cavity that is due for dental work. Treatment can involve the removal of damaged dental material, and work to replace what was lost. If the cavity has reached a point where you feel pain on a frequent basis, it can be serious enough to require a dental crown. Smaller cavities can be treated with dental fillings.
Tooth Loss Can Lead To Frequent Discomfort
If you have suffered tooth loss, you may find that routine dental functions have become more difficult. You can also be faced with a difficult proposition – cut back on some of your favorite foods, or continue to struggle with uncomfortable biting and chewing. Your dentist can replace missing teeth, while offering prosthetic support from a dental implant. An implant gives you a degree of stability for a prosthetic that can help you bite and chew comfortably, so you avoid pain or difficulty with tougher foods.
Persistent Pains In Your Face, Neck, Or Head May Be A Consequence Of TMJ Dysfunction
Sometimes, dental pain can be located in other places than your teeth. Your headaches, jaw stiffness and soreness, and neck pains could all have one issue in common. People who suffer from TMJ dysfunction can experience all of these problems, as well as nighttime teeth grinding. Your dentist can improve your quality of life by treating this matter.
Grinnell Street Dental Can Help You Put An End To Dental Pain Or Sensitivity
Grinnell Street Dental can help you improve your quality of life by addressing the issues that make discomfort a routine experience. In addition to helping restore your oral health, the right procedure or procedures can also have positive effects for your smile! If you are interested in learning more about Grinnell Street Dental, or if you wish to schedule an appointment with one of our doctors, contact our Sheridan, WY, dental office today at (307) 672-7567. We are proud to offer our services to individuals in and around the Sheridan area.