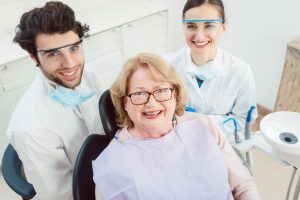 For patients who have several oral health issues impacting them, a full mouth rehabilitation can lead to great results. The process can involve different procedures, as the process is geared towards helping an individual fully treat active problems. If you want to know exactly what it will take to fully restore your smile, make time to speak with your Sheridan, WY dentist. Once all of your oral health concerns are identified and reviewed, your treatment plan can be based around what issues need the most urgent attention, and what your dentist can do to make sure your smile is returned to good health.
A Full Mouth Rehabilitation Can Help When You Need To Address Multiple Smile Issues
Untreated dental problems can create new troubles for people. If you have left tooth loss untreated, you may be feeling the effects of TMJ dysfunction due to your limited biting and chewing ability. Untreated cavities can worsen over time, and do serious damage to teeth. Only after surveying your smile can your dentist address what procedures might be needed. After recording this information, they can talk to you about what your full mouth rehabilitation should begin with, and what it can involve.
Making Sure Flawed Teeth Receive Quality Care
Individual teeth may need attention due to damages, or untreated cavities. For small cavities, dental fillings can be placed. If there is a more advanced level of decay, or if you need to have physical dental trauma addressed, dental crowns can be required. Your dentist will target teeth facing the most advanced degree of harm before moving on to teeth that are still in better condition. By restoring teeth, your dentist can make it easier for you to bite and chew without discomfort.
Dealing With The Aches And Pains Associated With TMJ Dysfunction
TMJ dysfunction can occur after a person has allowed issues with their dental function to go untreated. The issue refers to problems with your jaw joints or muscles, and in addition to affecting how you move your jaw, it can cause you to feel persistent headaches, and other aches. Treatment for this issue can mean an end to bothersome discomfort, while also making it easier for you to bite, speak, and chew.
Grinnell Street Dental Can Offer Patients A Full Mouth Rehabilitation
If you need multiple procedures to fully restore the condition of your smile, Grinnell Street Dental can work with you on a full mouth rehabilitation. As you and your dentist discuss your oral health needs, you can make plans to see a dramatic improvement to your smile, and your well-being. Our Sheridan, WY practice is proud to welcome patients in and around the area who are searching for quality dental health support. To find out more about Grinnell Street Dental, or to plan an appointment with one of our doctors, contact our Sheridan, WY, dental office today at (307) 672-7567.