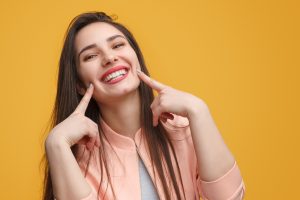 According to scientific researchers, the physical act of smiling can trigger multiple physiological reflexes in your body. Using the facial muscles to make a smile can trigger your brain to boost your mood and lower your stress hormones. These facts make the old adage, "fake it til you make it" true about smiles. Even if you are not feeling in a particularly happy mood, faking a smile can have the same positive effects on your mood. However, if you are embarrassed or self-conscious of your smile's appearance, you could be losing out on these healthy smile benefits. The team at Grinnell Street Dental in Sheridan, WY can help you get your smile to a place where you want to show it off. 
Do You Like Your Smile?
Many people feel self-conscious about their smile's appearance. Whether you have always disliked the gap in your two front teeth or if time has taken it's toll on your smile, there are ways to help you feeling confident about your smile. If you do want to close a gap in your teeth, cosmetic bonding or porcelain veneers can both be ways to address this need. If you have aging yellow teeth that you want to look vibrant and white again, a teeth-whitening treatment may be best for you. Whatever the specific issue or issues are that you have with your smile's appearance, talk to your dentist about your options.
Feeling Healthy
Cosmetic dentistry may help you rebuild your confidence in your smile. If you are feeling confident, you may feel more likely to show it off and feel those mood-boosting qualities listed above. Along with addressing your smile's appearance, your dentist may also need to address some below-the-surface issues with your smile. A full-mouth rehabilitation can be a good way to deal with multiple issues. Talk to your dentist about your wants and they can help identify your needs.
Does your smile make you feel confident?
Smiling can elevate your mood and make you feel better. Schedule a consultation by calling Grinnell Street Dental in Sheridan, WY, at (307) 672-7567. We also proudly serve the residents of Gillette, Billings, Miles City, and all surrounding communities.