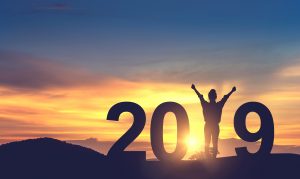 Are you one to make New Year's Resolutions? If you do make a resolution, do you stick to it or do you give up after a month? It seems normal for many people to give up on a big resolution. However, we have a New Year's Resolution idea that is good for your smile along with some tips to make it easier to stick with. Aiming for a healthier smile is a great way to keep your smile looking and feeling great, but it is also a great way to keep you in overall good health. The team at Grinnell Street Dental in Sheridan, WY is here to help you get that healthier smile in 2019. 
Give Up Harmful Habits
Giving up habits is not an easy thing to do. It takes discipline and it takes making several choices every single day. There are some habits that might be easier to give up when you understand the toll it takes on your health. Smoking or using tobacco in any way can have disastrous effects on your smile. It can turn your teeth yellow, dry out your mouth, and most importantly, put you at a high risk for oral cancer. Quitting tobacco is a great way to improve your smile's health. Giving up soda habits is another important way to help your smile. Try out flavored water as a healthier alternative.
Improve Your Oral Hygiene
Are you a master of brushing and flossing your teeth? Do you visit the dentist at least once every six months for an exam and a cleaning? If the answer is not yes to both of these questions, you have some room in your hygiene routine for improvement.
Consult with Your Dentist
Your dentist is your best resource on understanding how exactly you can improve your oral health. Whether it be by a treatment like a filling or by pointing out an area of your smile that you are missing in your hygiene routine, your smile's health can get some important feedback.
Are you resolving to improve your smile's health?
A healthy smile is within reach this year. Schedule a consultation by calling Grinnell Street Dental in Sheridan, WY, at (307) 672-7567. We also proudly serve the residents of Gillette, Billings, Miles City, and all surrounding communities.