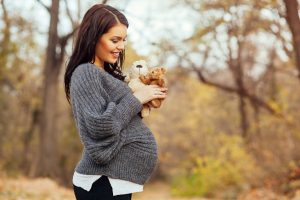 Pregnancy can be an awfully exciting time for a family. If you are a mother-to-be, want to be a mother-to-be someday, or just love someone who is expecting, it is important to know a few things about oral health and pregnancy. There are a lot of obvious ways that pregnancy can change a woman's body, but there are also a lot more less obvious ways. The smile is one of those less obvious changes that can happen during pregnancy. Your dental team in Sheridan, WY wants to help take care of your smile and your family's smiles during any stage of life. 
Oral Changes
Pregnancy causes hormonal changes in the body. Some of these changes can increase your risk for gum disease. This effect is so common that the term, "pregnancy gingivitis" exist, which is where the gums get inflamed. If you notice bleeding in your gums, swelling, or a change in color, talk to your dentist. Morning sickness can cause some women to avoid brushing the teeth because of the gag reflex and may make others brush more often. For those avoiding brushing or flossing, there may be an increased risk of tooth decay. For those brushing too often, it may create tooth sensitivity. Again, it is important to talk to your dentist about changes in your smile.
Care and Nutrition
Routine dental care is important during pregnancy. While some procedures can wait until after the baby is born, exams and cleanings are important for the sake of your oral health. Chewing sugarless gum and drinking plenty of water remains important for an expecting mother. A baby's teeth begin to develop in the womb at about three months into a pregnancy. Nutrition for a pregnant woman is important not just for own health, but for the development of the baby. Foods rich in minerals like calcium can help make sure the baby's teeth get a good strong start.
Oral health remains important during pregnancy
Moms-to-be need to care for their smiles, too! To schedule a consultation, call Grinnell Street Dental in Sheridan, WY, at (307) 672-7567. Along with residents of Sheridan, we also proudly serve the residents of Gillette, Billings, Miles City, and all surrounding communities.