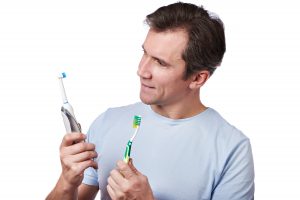 Have you ever tried an electric toothbrush? Or have you gone your whole life just brushing your teeth with a plain old manual toothbrush? In many cases and for many people, a manual toothbrush does a great job at keeping smiles clean and healthy. However, there may be a few reasons why you may want to reach out on on electric limb. If you have been told that you brush too hard during your cleanings or exams, if you have joint issues or chronic pain, or if your manual toothbrush is ineffective, you may want to consider stepping up to an upgraded electric toothbrush. When in doubt, you can always talk to your dentist about what is best for your smile's particular needs. 
Do You Brush Too Hard With a Manual One?
During a cleaning or an exam, you may have been told that you are damaging your sensitive gum tissue or your teeth's surfaces by brushing too hard. An electric toothbrush can help minimize this damage by controlling the vigor in which the brushing occurs. When using an electric toothbrush, your force will be relegated to just moving the toothbrush around your smile and holding it steady.
Do You Have Arm or Hand Issues?
Issues like arthritis, tennis elbow, or carpal tunnel can all make moving your brush back and forth difficult during dental hygiene can make the task of brushing painful or uncomfortable. If you have any problems with your arm or hand joints or mobility, an electric toothbrush may be able to make your time brushing much easier.
Do You Have Trouble Effectively Brushing?
Another thing that you may have been told during an exam or cleaning is that you are not doing a good job removing all of the plaque off of your teeth when you brush. An electric toothbrush may be able to help you better remove the harmful bacteria that can cause tooth decay and gum disease.
An electric toothbrush might be a worthwhile investment
Your dentist can always help you make a wise toothbrush decision for your smile. To schedule a consultation, call Grinnell Street Dental at (307) 672-7567. Located in Sheridan, WY, we also proudly serve the residents of Gillette, Billings, Miles City, and all surrounding communities.