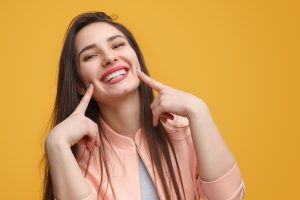 Summer is here and everything is looking just a bit brighter. A brighter, whitened smile can be one of the fastest ways to get a boost in your appearance and your confidence. Working with your dentist to whiten your teeth can mean that issues like sensitivity can be monitored and that your treatment can be customized. Depending on your specific needs, goals, time frame, and budget, you and your dentist can decide on the best professional-grade whitening option for you. Based on your smile's needs, you can choose between take-home treatment, an in-office treatment, or even other cosmetic dentistry treatments. 
Take-Home Whitening Kit
If you would like to whiten your teeth in the comfort of your own home while getting professional results,your dentist can customize a whitening kit for you to take home with you. The kit will include customized comfortable mouth trays, professional-strength whitening gel, and specific instructions for your use. The treatment usually involves daily use for about two weeks. The results can be quite dramatic by giving you teeth that are several shades brighter.
In-Office Whitening Treatment
If you find yourself in a hurry perhaps with a special event or something, you may want to consider an in-office whitening treatment. You and your dentist can work together to decide on a perfect, natural looking shade for your teeth. In just a single visit, you can get a bright smile up to ten shades lighter.
Other Cosmetic Options
Whitening treatments work only for stains on the external layer of your teeth, also known as extrinsic stains. Some tooth discoloration comes from beneath the external layer, which are known as intrinsic stains. Intrinsic stains are often caused by some sort of tooth trauma like internal bleeding, certain health conditions or medications, or even genetics. This type of discoloration cannot be removed through even a professional-grade whitening treatment, though they be covered with cosmetic dentistry options like dental bonding or porcelain veneers.
Summertime is a great time to brighten up your smile
Our team can help you reach your smile goals. To schedule a consultation, call Grinnell Street Dental at (307) 672-7567. Located in Sheridan, WY, we also proudly serve the residents of Gillette, Billings, Miles City, and all surrounding communities.