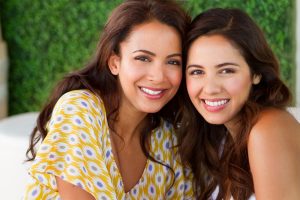 Just the act of smiling can be a great way to build confidence. If your smile makes you feel insecure enough to not smile, it can lessen your overall confidence. If you have specific issues with your smile's appearance like deep discoloration, uneven gaps or spacing, or cosmetic damage, cosmetic dentistry may be able to help you update your smile. Porcelain veneers can be a great type of cosmetic dentistry if you need to address several teeth with several cosmetic issues. 
Deep Discoloration
Tooth stains that affect only the surface of the teeth can usually be removed by a whitening treatment. However, there are types of tooth discoloration that comes from inside the tooth. With this type of discoloration, not even professional-grade whitening will be able to remove it. Porcelain veneers can be customized to match the desired shade and color of your teeth. Veneers are applied to the front of the teeth, which means the veneers can cover up deep discoloration. The thin porcelain layers are similar to a the thin layers of natural enamel, which gives porcelain veneers a realistic appearance.
Gaps and Wide Spacing
When large gaps or wide or uneven spacing between teeth make you feel insecure about your smile, veneers can address these issues. Veneers can even be created so that you still have a small gap in your smile, if you feel like it is something that makes your smile unique and special. Sometimes uneven spacing can make teeth appear to be crooked even they aren't. Porcelain veneers can make your smile look more symmetrical.
Surface Level Damage
Any damage to your tooth, such as a crack or a chip, can be harmful to the health of that tooth. It is important to visit your dentist as soon as you can so that you can reduce how long your tooth is left vulnerable. If tooth damage only affects the surface, such as a small chip, a cosmetic treatment like porcelain veneers or cosmetic bonding may be able to restore the tooth back to its original appearance.
Porcelain veneers can update your smile
Are porcelain veneers are right for your smile? To schedule a consultation, call Grinnell Street Dental at (307) 672-7567. Located in Sheridan, WY, we also proudly serve the residents of Gillette, Billings, Miles City, and all surrounding communities.