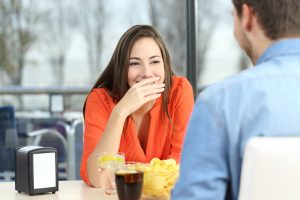 A chipped or a cracked tooth, especially in the front of your mouth, can put a chip in your confidence. Depending on the severity of the damage, there are a few different options to repair a chipped tooth. Chips and cracks that only affect the outward appearance of your tooth may be treated differently than damage that also affects a tooth's function. Restoration is important because a chipped tooth can be left vulnerable to further damage or even to decay. Fixing the damage can help protect the tooth from further damage or decay. Depending on your tooth's situation, your dentist may restore your tooth with dental bonding, porcelain veneers, or a crown. 
COSMETIC DENTAL BONDING
Dental bonding is a composite resin material that can be used to restore teeth with tooth-colored fillings or it can also be used for cosmetic reasons. An innocuous surface chip or crack can often be restored with bonding material. Because the composite resin can be color-matched to the tooth, it can blend seamlessly to the rest of your smile. The bonding material can be hardened and polished to a surface that not only looks like a natural tooth, but acts like it. It can protect your tooth from further damage or from bacterial attacks to cause decay.
PORCELAIN VENEERS
Porcelain veneers are very thin shells of porcelain ceramic applied directly and permanently to the front of your teeth. Porcelain is a material that looks like a natural tooth enamel with the nearly translucent appearance; it is also quite durable. Depending on the size of the chip or crack in your tooth, porcelain veneers may provide more coverage to restore your damaged tooth.
A CROWN
A tooth that is damaged deeper than  the external layer may need more restorative attention. A crown may be strong enough to restore a tooth in the back of your mouth, like a molar, that absorbs a lot of pressure that may occur from biting and chewing. Same-day crowns can be an option to provide your tooth protection in a hurry.
Do you have a tooth that is chipped or damaged?
Your dentist can help you choose the best option to repair a chipped tooth. To schedule a consultation, call Grinnell Street Dental at (307) 672-7567. Located in Sheridan, WY, we also proudly serve the residents of Gillette, Billings, Miles City, and all surrounding communities.