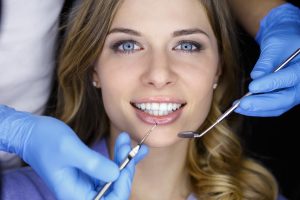 There are two different ways that teeth can be discolored. Dull, yellow teeth can make you feel insecure about showing off your smile. Refreshing and whitening your smile can be a fairly quick and simple way to boost your confidence in your appearance. Understanding that there are two different types of tooth discoloration can help you know the difference between how you brighten your smile. Your dentist can help you to both understand the types of stains on your teeth and help you find the best ways to deal with it.
Intrinsic Discoloration
Intrinsic stains are a type of discoloration that happens from inside the tooth. This type of stain will happen beneath the outer layer of enamel. It can be caused by reasons like tooth trauma, internal bleeding, genetics, certain medications, illnesses, or even just aging. Discoloration from inside your tooth cannot be removed by whitening treatments. If you have tried to whiten your teeth with no difference made, you may have intrinsic discoloration. If your entire smile is affected, porcelain veneers could be a great option to cover up the stains. If you have just a single or a few teeth that are discolored, cosmetic bonding could be used to cover up the discoloration.
Extrinsic Discoloration
Discoloration from build up on the enamel of your teeth are known as extrinsic stains. This type of discoloration can be caused by dark colored beverages and food, smoking, poor oral hygiene, or even aging. These types of discoloration can be removed through a whitening treatment. You can find an over-the-counter method, a whitening toothpaste, or talk to your dentist about professional whitening options. Professional whitening options can help to get your teeth several shades lighter in a shortened amount of time. With a professional treatment, you can choose between a customized take-home kit with professional-grade whitening gel or an in-office treatment. Your goals, budget, and timeline will all be determining factors on which option is the best option for you.
Do you have discolored teeth?
Dr. Coon can help you determine which type of tooth discoloration you have. To schedule a consultation, call Grinnell Street Dental at (307) 672-7567. Located in Sheridan, WY, we also proudly serve the residents of Gillette, Billings, Miles City, and all surrounding communities.