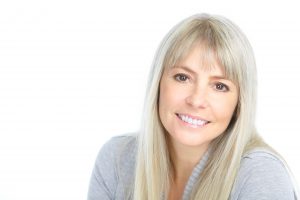 Many adults with a crooked smile find themselves asking, "am I too old to straighten my smile?." Movies and television have filled our heads with the images of teenagers wearing braces and headgear, which makes many of us mistakenly believe that straightening our smiles is strictly for adolescents. While Invisalign treatment is appropriate for kids and teens, it is also appropriate for adults. Misaligned smiles and crooked teeth can be problematic for anyone of any age.
Invisalign Treatment
A big reason that many people choose not to straighten their teeth is the concern about what it will look like if they wear braces with metal brackets. Invisalign is a treatment that uses clear aligners to move your teeth incrementally into a correct alignment. Clear plastic aligners can be hardly noticeable in person and practically invisible in photographs. Invisalign aligners are removeable, which allows you to enjoy life. To drink cup of coffee, eat food, brush your teeth, floss, or for whatever reason you want, you can remove the aligners. For the most effective treatment, it is necessary for the aligners to be worn for at least 20-22 hours per day. If you have stalled on correcting misaligned teeth because you worry about the appearance of treatment, you should know that there are less noticeable options.
The Problems With Misalignment
Crooked, misaligned teeth can create nooks and crannies for bacteria to hide in. It can make it difficult to effectively brush and floss your teeth. Any bacteria that is left behind in your mouth can cause an increased risk of tooth decay and gum disease. Misaligned teeth can also lead to chronic headaches and temporomandibular joint (TMJ) disorder by putting excess strain on your jaw. A bad alignment for your teeth can also leave them more susceptible to breakage and damage.
Adults can straighten their teeth, too!
Ask Dr. Coon if you qualify for Invisalign treatment to straighten your smile. To schedule a consultation, call Grinnell Street Dental at (307) 672-7567. Located in Sheridan, WY, we also proudly serve the residents of Gillette, Billings, Miles City, and all surrounding communities.