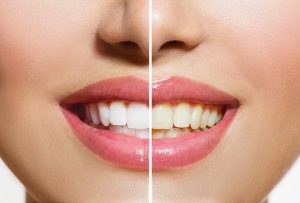 If you have discoloration, then you may be uncomfortable showing off your smile, especially with the holiday season coming up. Fortunately, we can help you enjoy a more attractive smile by removing these stains using cosmetic treatment. Do you have questions about our teeth whitening procedure?

Frequently Asked Questions About Teeth Whitening
Question: How does in-office whitening work?
Answer: For our in-office procedure, we apply a protective covering over the lips and gums. We then apply the bleaching gel, which is activated with a light. The gel then lifts stains off the surface of the teeth, helping you achieve a brighter smile in about one to two hours.
Question: Can you remove stains from home?
Answer: We can! We send the patient home with a set of plastic trays and a bleaching gel. The patient fills the trays with gel and wears them for the amount of time the dentist recommends, usually between a half hour and 45 minutes. The total treatment time takes between a week and ten days, depending on the severity of the discoloration.
Question: What causes teeth stains?
Answer: Stains can form as a result of drinks with dark pigments, or foods/drinks high in sugar (which promote plaque buildup, causing stains to be more apparent). Smoking can also lead to discoloration. Understanding the cause of your discoloration, and taking steps to help prevent them, can allow your teeth to stay brighter for longer.
Question: How do I keep my teeth bright?
Answer: You can also care for your smile to help control plaque buildup and discoloration. First, make sure you're taking time each day to brush your teeth twice for two minutes each session. You also need to floss on either side of every tooth each night before going to sleep. Finally, make sure you're scheduling a professional dental cleaning every six months!
Do You Want A Brighter Smile?
Dr. Coon can help remove discoloration and keep your smile bright. To schedule a consultation, call Grinnell Street Dental at (307) 672-7567. Located in Sheridan, WY, we also proudly serve the residents of Gillette, Billings, Miles City, and all surrounding communities.