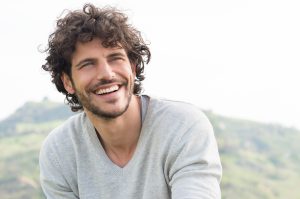 Losing even just one tooth can have detrimental impacts on your oral health. Not only does a missing tooth cause a void in the appearance of your smile, but it can limit your chewing, biting, and speaking abilities. More detrimental though is the effect that a missing tooth has on your jaw bone. A missing tooth can lead to a loss of bone density in your jaw. Replacing a tooth with a dental implant can restore the appearance of your smile, bring back your abilities to chew, bite, and speak, and prevent premature bone loss. 
How Is The Jaw Bone Affected?
When you lose a tooth, you not only lose the part that lives above the gums, but you also lose the roots and nerves. The roots of your tooth actually stimulate the bone in the jaw. Without this root stimulation, the body assumes that the bone is no longer a useful part of the body. It stops sending important nutrients to the area and can start to harvest those nutrients to use elsewhere. This process is called bone resorption. As the body starts to absorb the bone back into the body, the bone will soften and lose it's shape. This loss of density can endanger other teeth in your mouth as their foundation becomes weak. Multiple missing teeth can lead to such drastic bone loss that the face will appear to have a different shape.
How Does An Implant Prevent Bone Loss?
A dental implant is a biocompatible titanium post that replaces the roots of the tooth. As the tissues and bone heal, they will fuse to the implant. The implant will stimulate the bone and prevent the body from thinking that the area is useless. A dental implant can keep the bone sturdy, while supporting a restorative prosthetic such as a crown, bridge, or dentures. The restoration will replace the tooth while the the implant replaces the roots.
A dental implant can protect your mouth from bone loss
It is important to replace a missing tooth with a dental implant. To schedule a consultation, call Grinnell Street Dental at (307) 672-7567. Located in Sheridan, WY, we also proudly serve the residents of Gillette, Billings, Miles City, and all surrounding communities.