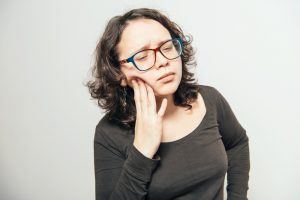 Chronic jaw pain, and a lessened ability to bite, chew, and speak comfortably, could be the consequence of TMJ dysfunction. If your temporomandibular joints (TMJs) come out of their proper alignment, it can lead to operational difficulties. You can also experience headaches, and pain in your face and neck – this is because your jaw is controlled by your trigeminal nerve, which is responsible for sensation in these areas. In order to stop TMJ dysfunction from continuing to cause problems, talk to your dentist about treatment. An appliance, worn at night, can put your jaw joints in a more comfortable position, and give you relief.
Issues That Can Lead To TMJ Troubles
There is no single reason for TMJ troubles to develop. It can happen after a jaw injury, as a result of stress, or due to poor bite alignment. If bite alignment is suspected to be the cause of your issues, your dentist can recommend Invisalign. Before making a determination on your treatment, your dentist will want to evaluate you. Exercises, stress reduction techniques, and strengthening exercises can be recommended. If your problems are accompanied by a teeth grinding issue, your dentist can provide help for any damage that has occurred on teeth.
How An Oral Appliance Can Help You Reduce Discomfort
Many patients who need help with TMJ dysfunction will receive it in the form of a special oral appliance, which is worn at night. Your dentist will have a custom-made appliance developed for you. When you wear it, it will hold your jaw joints in a more proper position, and provide relief over time for you discomfort.
Talk To Grinnell Street Dental About Care For Chronic Jaw Pain
Chronic jaw pain – and accompanying pains that may develop in your face, neck, and head – are difficult to ignore. The team at Grinnell Street Dental will work with you to find the root of your troubles, and recommend treatment for your struggles with TMJ dysfunction. If you would like to schedule an appointment with one of our doctors, contact our Sheridan, WY, dental office today at (307) 672-7567. We welcome residents from Sheridan, WY, as well as Gillette, Billings, Miles City, and all surrounding communities.