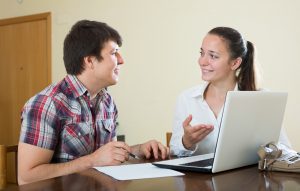 After a cavity is removed, your dentist needs to make sure your tooth does not lose its ability to withstand biting and chewing pressures. Unfortunately, enamel damage caused by decay is permanent. However, a dental filling will cover the lost material – the composite resin material used to make your filling will be a good visual match for your enamel, and you can avoid functional difficulties. If you need more advanced support, or you need protection for a tooth that is damaged in an injury, they can place a dental crown on the tooth in question.
Questions:
True Or False: Dental crowns are used to take care of teeth when a dental filling will not provide enough support.
True Or False: Fillings are made with composite resin, a material that can bond directly with your enamel. Unfortunately, this substance looks nothing like your natural tooth, and will be easily noticed.
True Or False: A dental crown can be designed, made, and placed in one visit, thanks to CEREC technology.
Answers:
True! Rather than simply cover the area of lost dental material, your dental crown will cover the entirety of your tooth to your gum line.
False! Composite resin can be bonded directly to your tooth. The material is also a good visual match with your enamel, so you will not have cosmetic issues affecting your smile after you receive your restoration.
True! CEREC technology provides your dentist with the equipment they need to design, craft, and place your dental crown in the span of a single visit. This ensures you have the support you need for a problem tooth in less time.