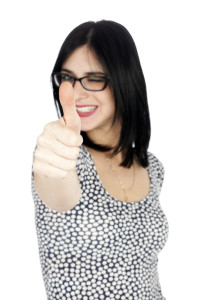 Perhaps it isn't the fact that crooked teeth can mean trouble for your dental health, but rather the way they make your smile look that prompts you to want to straighten them. If so, then you may wish for a more discreet way to straighten them than with conspicuous metal braces.
Fortunately, Invisalign® clear braces offer a nearly invisible way to straighten crooked teeth by utilizing clear acrylic aligners instead of brackets and wires.
How Invisalign® Works
Whether through braces or clear aligners, the process of straightening crooked teeth requires delicate planning and execution. If your teeth move too fast, then their supportive tissues, ligaments, and bone structure may not be able to shift accordingly.
Like braces, Invisalign® is designed to affect gradual tooth movement, but instead of brackets and wires, the system relies on the shape of its aligners to apply gentle pressure. The aligners are designed to guide your teeth through the prescribed path of movement as you progress through each one in the series.
Enjoy the Benefits!
If you've ever worn braces, than you may be familiar with the inconvenience that can come with having to accommodate the apparatus that are attached to your teeth. By contrast, Invisalign® aligners are removable, so you can enjoy a number of convenient benefits, such as;
Brushing and flossing your teeth quickly and effectively
Eating the same meals as before, without food sticking in your braces/aligners
Greater comfort, since the aligners are not bonded to your teeth
Fewer maintenance visits to the dentist throughout your treatment plan
Increased confidence throughout the day knowing your aligners are unnoticeable
And more