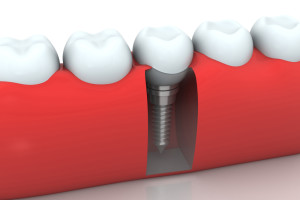 Interested in dental implants to replace your missing teeth? We find your decision to be a very smart one – implants offer a long list of wonderful benefits as well as long-term wear. You will enjoy exceptional stability that you cannot receive from any other dental prosthetic. With this in mind, you may find yourself feeling positive about the treatment but a little anxious about whether or not you qualify for implants. Rather than remaining in suspense, we invite you to look over the following qualifying factors. Keep in mind, it's always best to visit us for a consultation since every smile is unique.
How's Your Jaw Health?
You will need a healthy jaw to support the dental implants. This is because implants are titanium posts that we will insert surgically into your jawbone, and which will fuse to your jaw. If there is inadequate tissue volume, you may not qualify. Or, we may first need to discuss potential solutions with you, which can include seeking bone grafting from a trusted oral surgeon that we will recommend.
Are You Looking For A Quick Fix?
If you can invest time into the journey to replace your missing teeth, then this may be a wonderful solution for you. However, if you are on the search for a quick fix, you may not make the best candidate for dental implants. Here's why: Implants first require a surgery. Once we place the implants into your jawbone, you will need ample time to heal and for "osseointegration" to occur. This is the process through which your implant post will fuse to your jawbone for a sturdy base to your tooth replacement. The recovery period may require several months, followed by the placement of your restoration.
You're Missing Any Number of Teeth
This is an easy one. You must be missing a tooth to qualify for dental implants. Fortunately, you may choose this dental prosthetic for a single missing tooth, multiple teeth, or even all of your teeth. We may offer single tooth replacement (restoring your implant with a crown) or multiple teeth replacement (restoring implants with a prosthetic like a denture) according to your needs.
ABOUT YOUR SHERIDAN, WY DENTISTS:
Questions about our Sheridan, WY dentist office? To learn more about Grinnell Street Dental services, or to schedule an appointment with one of our doctors, contact us at (307) 672-7567. We welcome residents from Sheridan, Gillette, Billings, Miles City, and the neighboring communities.