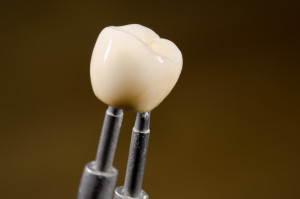 As tough as your teeth are they can still incur damage. Be it from an accident, a blow to the mouth, biting or chewing on something hard, or tooth decay, your tooth or teeth can become damaged to the point of no salvation. What do you do when that happens? It depends on how much of the remaining tooth structure is left. Dental crowns are a common restorative treatment. There was a time that it took up to three visits to place a crown, but today there is such a thing as a one-visit crown.
CEREC Technology
CEREC, an acronym for Chairside Economical Restoration of Esthetic Ceramics, is a dental technology that allows you to receive a crown restoration in one visit. No longer do messy, uncomfortable impressions need to be made and sent to a dental lab for crown fabrication. No longer must you wait weeks for the crown to be completed. No longer must you make two or more trips to the dentist. It is all done in-office in one visit.
How is it Done?
The process of preparing the tooth and placing the crown has not changed. Your dentist will remove the damage or decay and keep as much of the healthy tooth structure as possible.  However, rather than messy impressions, a 3-D image is taken of your tooth via computer and sent to a milling machine.  A ceramic ingot is placed inside the milling machine and the crown is sculpted according to the 3-D computer image right on the premises.  The crown is then stained and glazed to match your natural dentition and your dentist will permanently bond the crown over your prepared tooth the same day, saving you the added inconvenience of another visit. If you are in the market for a dental crown, ask Dr. Coon about the CEREC one-visit dental crown.
ABOUT YOUR SHERIDAN DENTISTS

:
Questions about our Sheridan, WY dentist office? To learn more about our services, or to schedule an appointment with one of our doctors, contact us at (307) 672-7567. We welcome residents of Sheridan, Gillette, Billings, Miles City, and the neighboring communities.