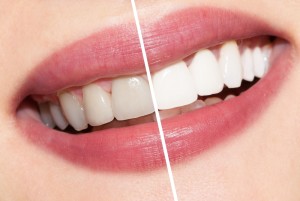 White teeth are all the rage, but it is not just a fad. A white smile can go a long way. There has been research indicating the many benefits of smiling, and the many benefits of an esthetic smile. Some of those benefits include being happier, more successful, and having more opportunities in your social life, love life, and professional life. That alone is worth whitening your teeth for. But if you choose not to have your teeth whitened professionally, are at-home whitening systems safe?
Research Says…
If you are worried about the ingredients in whitening kits and whether they are safe for your teeth The American Dental Association Council on Scientific Affairs has been monitoring tooth whitening products for the past two decades. Over-the-counter whitening bleaches, dentist-dispensed whitening kits, and products administered in the dentist's office are all eligible for ADA review. Teeth whitening products have been divided into two groups: Peroxide-containing bleaching agents, and whitening toothpastes:
Whitening Toothpastes: There are several over-the-counter (OCT) whitening toothpastes that have received the ADA Seal of Acceptance. These products contain chemicals, polishing agents, and mild abrasives that help remove surface stains using non-bleaching methods such as chemical chelation or polishing. The ingredients may include calprox (a non-abrasive), hydrated silica (a mild abrasive), or baking soda.
Peroxide-Containing Bleaching Agents: The active bleaching agent in OTC products is usually 10 percent carbamide peroxide. While it is safe for teeth, it can cause side effects such as tooth sensitivity and irritation of the gingival tissue. These side effects generally do not last. Professionally applied teeth whitening products, those used in the dentist's office, use hydrogen peroxide in concentrations ranging from 25 to 40 percent. Using a light or laser accelerates the whitening process. That is why professional dental whitening can work in about an hour compared to take-home whitening kits or OTC whitening products which work over a period of weeks.
ABOUT YOUR SHERIDAN, WY DENTISTS:
Questions about our Sheridan, WY dentist office? To learn more about our services, or to schedule an appointment with one of our doctors, contact us at (307) 672-7567. We welcome residents of Sheridan, Gillette, Billings, Miles City, and the neighboring communities.