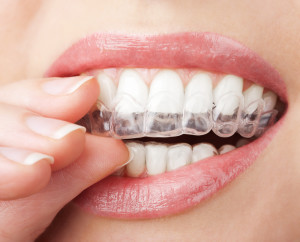 You may have some idea of what to expect from Invisalign treatment. For instance, you may know that it does not rely on the use of brackets and wires like traditional braces. However, we often find that patients' knowledge about this orthodontic treatment tends to stop there. Fortunately, Invisalign can offer patients a long list of exceptional assistance for a variety of concerns. True, it is wonderful for guiding you toward a cosmetically improved smile, which is a very important aspect of your daily life. Wondering what else it may do? Find out more:
Invisalign May Treat Bruxism and TMJ Disorder
Do you have difficulty closing your teeth together when you bite down? If so, you may suffer from bruxism (teeth grinding or clenching) and/or TMJ disorder (the poor functioning of your jaw joints) as a result. Misalignment causes more than just an esthetically displeasing smile. It also causes you to suffer excess strain on your teeth and your jaw joints, which may lead to long-term damage. By aligning your teeth with Invisalign treatment, you may greatly protect your teeth and jaw health.
Daily Hygiene May Become Easier
Brushing and flossing aligned teeth is a simple process – you can easily access every surface of each tooth and do not need to worry about excessive debris lodged between teeth. Misaligned teeth, however, do not provide patients with such a luxury. By aligning your teeth with Invisalign treatment, you can expect improved hygiene.
You Will Enjoy Improved Confidence
Improving the way your smile looks can have a truly astounding impact on the way you feel about yourself. When you are proud of your smile, you may be more confident about your life, making strides socially, professionally, and in many other ways.
Nobody Needs to Know
Invisalign treatment is practically invisible. You will be wearing clear plastic aligner trays that are extremely difficult to see, so you may align your smile without interrupting your daily appearance.
ABOUT YOUR SHERIDAN, WY DENTISTS:
Questions about our Sheridan, WY dentist office? To learn more about our services, or to schedule an appointment with one of our doctors, contact us at (307) 672-7567. We welcome residents of Sheridan, Gillette, Billings, Miles City, and the neighboring communities.