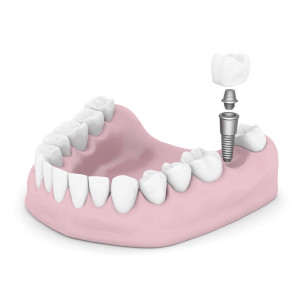 Do you have open spaces in your smile? If so, you are likely all too familiar with the myriad of uncomfortable and frustrating side effects that accompany tooth loss. For this reason alone, seeking an option to restore your smile is extremely important. Dealing with daily trouble with chewing and speaking does not make for a wonderful quality of life or a happy existence. For patients seeking a tooth replacement solution that offers lasting, unsurpassable stability, we suggest the incredible benefits of dental implants. Like what you are hearing but you are quite unfamiliar with implants? Learn the essential information with the following:
What Is An Implant?
A dental implant is a titanium post. Rather than replace only visible portion of your tooth like most prosthetics, an implant replaces your tooth's roots. It also acts as a support system for a restoration that will replace the part of your tooth that rests above your gumline, allowing you to chew and speak successfully, while enjoying a beautiful smile.
How Do You Place An Implant?
We will place the implant post into your jawbone through a surgical procedure. This will require us to create a strategy for optimal placement to support the prosthetic – or restoration – of your choice. After surgical placement, you will recover over the course of three to six months. In addition to your gum tissue healing, you will need this time for the post to fuse to your jawbone.
What Happens After Placement?
After the post fuses to your jawbone, we will place an abutment in the top of the implant. This is an accessory that will connect the post to your restoration – or the replacement of your tooth's visible portion. Restorations may include one of the following:
A beautiful dental crown for a single tooth replacement
A partial or full denture to replace severe or complete tooth loss
A dental bridge to replace one tooth or up to three teeth in a row
ABOUT YOUR SHERIDAN, WY DENTISTS

:
Questions about our Sheridan, WY dentist office? To learn more about our services, or to schedule an appointment with one of our doctors, contact us at (307) 672-7567. We welcome residents of Sheridan, Gillette, Billings, Miles City, and the neighboring communities.