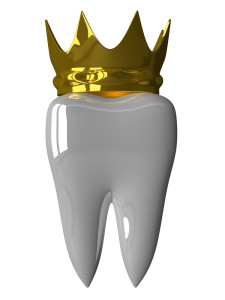 When you hear the term "crown" you can probably conjure up an image in your mind. If you've got the right idea, you are seeing a hollow artificial tooth – sometimes referred to as a cap – that will fit over your natural tooth. While you may have a notion that we place these prosthetics permanently over teeth, you may not quite know why we have suggested one for you or why you may ever need this treatment. Rather than remaining curious, learn more about how dental crowns can improve your oral health with the following information:
You Need A Dental Crown Because…
You Just Had A Root Canal Treatment
A root canal treatment involves creating a small opening in your tooth through which we will remove infected or damaged dental pulp. After filling and sealing it, your tooth will likely need additional support to remain standing in your mouth. In addition, one of the main goals is to protect your tooth from subsequent invasions of bacteria to keep infection from forming. A dental crown will offer you all of the benefits you need for restoring your tooth.
Your Tooth Is Severely Damaged
Perhaps you suffered a strong impact or bit down on something hard and your tooth is broken. Maybe you suffered a serious cavity that is too large for a dental filling. While you may assume you need an extraction, we always strive to assist you in retaining your natural teeth. In many cases, you will simply require the supportive structure of a dental crown to keep your tooth safe and intact.
You Need A Dental Bridge
If you have chosen a dental bridge to replace the missing tooth or up to three teeth in a row in your smile, you will need dental crowns. The portion of the prosthetic that will fill in your opening will be composed of artificial teeth called pontics. However, on either end of the bridge will rest a dental crown. The crown will fit permanently over the anchor teeth residing on either side of the opening for support.
ABOUT YOUR SHERIDAN DENTISTS

:
Questions about our Sheridan, WY dentist office? To learn more about our services, or to schedule an appointment with one of our doctors, contact us at (307) 672-7567. We welcome residents of Sheridan, Gillette, Billings, Miles City, and the neighboring communities.