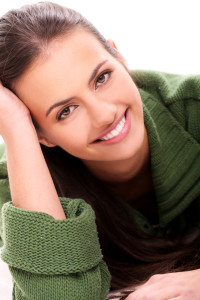 What do you think about your smile when you take a look in the mirror? Are you worried about small chips on your teeth? Do you feel like you enjoy the appearance of your smile for the most part but you wish you could magically add a little more tooth tissue in certain areas to perfect the way it looks? If building up your teeth would make you feel wonderful about your beautiful smile – rather than a smile that's just okay – we encourage you to learn more about dental bonding. This simple treatment may allow you to achieve the minor improvements you desire without requiring multiple visits and without making a dent in your wallet. Learn more about whether bonding is right for you:
Composite: An Exciting Material
To complete your dental bonding treatment, we use a material called composite. It is made out of synthetic acrylic resin, which is safe for most patients. One of the major benefits is that we can color-match composite to the surrounding target tooth. Whether we cover an imperfection or add more tissue to your tooth, the finished result will look natural. Onlookers will not be able to detect where your natural tooth ends and the composite begins.
Bonding Replaces or Builds Up Tissue
Understanding bonding is simple. Just think of areas of your smile that require minor tissue replacement or that would look better with additional tooth tissue and bonding will likely save the day. We may suggest dental bonding for one of the following:
You suffer from a tiny chip that does not affect the health of your tooth
Your tooth has a minor crack in it that you would like covered
You suffer from serious isolated staining that may be too dark for teeth whitening
Your tooth looks shorter than neighboring teeth – bonding will create the illusion that the tooth is longer for a uniform smile
You have spaces between your teeth – we may be able to fill the spaces to make it look as though neighboring teeth touch one another
ABOUT YOUR SHERIDAN DENTISTS

:
Questions about our Sheridan, WY dentist office? To learn more about our services, or to schedule an appointment with one of our doctors, contact us at (307) 672-7567. We welcome residents of Sheridan, Gillette, Billings, Miles City, and the neighboring communities.