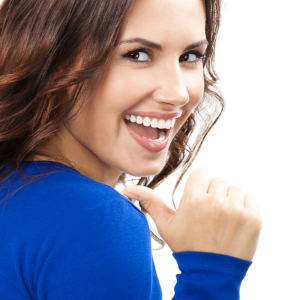 Have you decided that you are ready to wear clear braces for a straighter, more beautiful smile? If so, you are probably well informed on the many benefits of Invisalign treatment. In addition to wearing thin, clear, plastic trays that most people will not even notice, you can take them out during the day to eat or clean your teeth. Not bad, particularly when compared with metal braces. However, we find that patients understand the advantages but often still have questions regarding what to expect from the treatment process. We will walk you through the steps to receiving and using your trays below, so you can feel excited and confident about treatment:
Your Initial Visit
When you first visit us to begin clear braces treatment, we will begin the planning and design process for your Invisalign trays. Because every set of teeth is completely unique, we will need to create custom-fitted trays to align your teeth. We will first take photos of your mouth as well as advanced 3D images with special software, which will provide the basis on which your trays will be formed. We will send the images to a dental lab, where a highly skilled technician will create a series of customized trays.
Receiving Your Trays
During your next visit, we will provide you with your first in a series of aligner trays. You will wear the first trays for approximately two weeks, and then the next and so on until you have graduated through your complete set of trays. Fortunately, wearing clear braces does not require you to visit us as frequently as if you were to wear metal braces. For the most part, you will see us for follow-ups in intervals of six weeks.
Treatment Information
Invisalign trays can typically improve most types of malocclusions. If you are still deciding whether clear braces are for you, consider the following alignment problems typically improved with this treatment: overcrowding, spacing between teeth, over bite, underbite, and crossbite.
ABOUT YOUR SHERIDAN DENTISTS:
Questions about our Sheridan, WY dentist office? To learn more about our services, or to schedule an appointment with one of our doctors, contact us at (307) 672-7567. We welcome residents of Sheridan, Gillette, Billings, Miles City, and the neighboring communities.