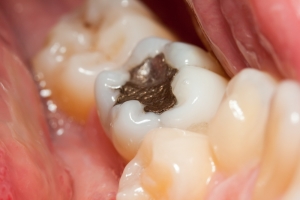 Do you know the difference between fillings? The most commonly used fillings in the past were silver amalgam fillings, but today there are metal-free fillings. Metal fillings can mar a beautiful white smile even if they are only used in the back molars. When people open up their mouth to laugh or yawn, metal fillings are extremely obvious. You wouldn't probably judge a person for their fillings because there are most likely very few people that don't have at least one filling in their mouth. However, you might wonder about their dental health after seeing a mouthful when they laugh. So…what exactly are metal-free fillings?
Metal Fillings
There are gold and silver metal fillings. Gold tends to be more expensive. Silver amalgam fillings were the most common until white fillings were developed.  Some drawbacks with metal fillings, however, include:
They can change shape.
They expand and contract with heat and cold.
They can cause tooth cracks.
People worry about leakage.
The FDA does not recommend them for pregnant women, children, or those with sensitivity to mercury.
Metal-Free Fillings
Metal-free, also referred to as white fillings, are made of composite resin material. Composite resin is a plastic, tooth-colored material that feels and looks like natural teeth. Composite resin fillings are less invasive to place because they do not require the removal of as much of the healthy tooth structure as metal fillings do. The resin material does not change shape, and because it is bonded to the natural tooth, it actually helps strengthen the tooth.
Do You Need to Replace Your Metal Fillings?
It is not necessary to replace your metal fillings but there can be advantages. If you are afraid of leakage, or simply do not like the looks of them our restorative dentists at Grinnell Street Dental can replace your metal fillings with metal-free, tooth-colored restorations. It's a great way to improve your smile.
ABOUT YOUR SHERIDAN DENTISTS:
Questions about our Sheridan, WY dentist office? To learn more about our services, or to schedule an appointment with one of our doctors, contact us at (307) 672-7567. We welcome residents of Sheridan, Gillette, Billings, Miles City, and the neighboring communities.