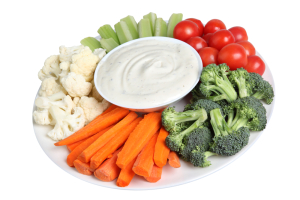 You all know that the holidays can be tough on your waistline. There is so much food and so many goodies, from candy, to cake, to pie, hot chocolate, wine, and on and on. But your waistline is not the only thing that suffers. Be aware of your dental health. Most of those goodies listed above are not good for your teeth. Read on as we discuss tooth-friendly foods you can eat during the holidays.

Holiday Foods
The holidays wouldn't be the same without all the yummy food to snack on, but much of that food is not tooth-friendly. So many holiday treats are high in sugar including beverages such as hot cocoa and eggnog. Your teeth can take a real beating, especially if you're so busy you're forgetting to brush and floss. You don't need to skip the food coma, just make healthy choices, at least most of the time. Below are a few tooth-friendly foods you can eat during the holidays.
Vegetables: Raw vegetables such as celery, carrots, cucumbers, cauliflower, and broccoli help clean harmful bacteria off your teeth while chewing, and those with rough textures such as cauliflower and broccoli massage your gums. Carrots and broccoli are high in vitamin A which is also good for your dental health.
Nuts: Nuts are tasty and healthy. Peanuts contain calcium and vitamin D, both essential to your oral health and your general health. Walnuts are often used in various holiday treats and contain potassium, vitamin E, vitamin B6, magnesium, thiamine, iron, folic acid, and zinc, which all contribute to healthy teeth and gums.
Cheese: Cheese is rich in calcium which helps keep your teeth and bones strong. Cheese also balances the acidity of your mouth. Your mouth should be neutral, or non-acidic because acid erodes tooth enamel, dissolves tooth roots, and weakens teeth. Eating cheese can reduce the damaging effects of acidic foods and drinks such as wine, and it also helps kill harmful bacteria that causes tooth decay and gum disease.
ABOUT YOUR SHERIDAN DENTISTS:
Questions about our Sheridan, WY dentist office? To learn more about our services, or to schedule an appointment with one of our doctors, contact us at (307) 672-7567. We welcome residents of Sheridan, Gillette, Billings, Miles City, and the neighboring communities.